At a Glance
Expert's Rating
Pros
Screwless contraptions hold interior devices in place
DisplayPort connectivity
Biometric scanner on keyboard
Cons
Limited upgradability
Poor diversity in external connections
Our Verdict
Although the ThinkStation E20 is a solid desktop PC, it fails to unseat its business-class competition.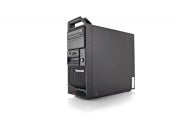 The Lenovo ThinkStation E20 is one of the more capable PCs in the business desktop category, delivering strong performance at a fair price ($1179 as configured, as of August 31, 2010). Nevertheless, the ThinkStation E20 ultimately falls short of machines that deliver comparable results for less.
The E20's 3.2GHz Core i5 650 processor, coupled with 4GB of DDR3 memory, set this business desktop churning to a score of 125 on our WorldBench 6 suite of tests. That score may put it pretty close to the top of the category, but several other systems beat the E20 in price-to-performance ratio. The similarly equipped Acer Veriton X498G, for instance, earned a mark of 129, surpassing the E20 by a narrow margin–but at $699, the X498G costs much less.
The 500GB hard-drive capacity available on the E20 (and on the X498G) is the best you'll get in the business category. Consumer-oriented PCs in the mainstream and budget categories tend to offer far more–up to 1TB at this price point. Equally paltry is the E20's gaming performance, as the system failed to offer playable frame rates on our Unreal Tournament benchmark (at 2560-by-1600-pixel resolution and highest settings). That said, the nVidia Quadro FX 580 discrete graphics card is more appropriate for workstation applications such as AutoCAD, offering superior driver support and performance than consumer cards do.
As expected for a business PC, the interior of the E20 is rather lacking. The system's simple DVD burner eats up one of the two free 5.25-inch bays, which use locking tabs to hold your devices in place. Although the two hard-drive bays use a handy tray mechanism to secure your drives, the machine has only one free slot for potential storage upgrades–the multiformat card reader occupies another one. A hulking fan and duct combination take up what could have been room for more device space.
On the motherboard, the graphics card eats up the single available PCI Express x16 slot. One free PCI Express x1 slot and two standard PCI slots remain ready for future device installations. To Lenovo's credit, the screwless mechanism for locking various PCI devices into place is nice to see.
The E20's overall connectivity is fairly unimpressive. You'll find a pair of USB ports near the aforementioned multiformat card reader on the system's front. Two DisplayPort connections sit alongside a VGA connector on the system's rear (courtesy of the graphics card). The back of the E20 also provides six USB ports, a DisplayPort connection, a VGA port, and a gigabit ethernet port. We appreciate having the next-generation display standard, but support for other storage options would help anchor the foundation.
The system's included keyboard is drab, but it makes for an excellent, comfortable typing tool–typical Lenovo fare. It also sports a biometric scanner, for added system security. The generic mouse that ships with the E20 is serviceable but otherwise uninteresting.
Making an appearance as well is Lenovo's ThinkVantage technology, which offers automated data backups and tracks software and hardware drivers to ensure that everything is in working order. You'll also find detailed system information, and the tools monitor changes so that you (or your IT staff) can better troubleshoot any equipment failures. Acer's X498G offers similar functionality by way of its Veriton Control Center, but Lenovo's software will likely be more familiar to business users.
Reviewing business-grade systems can often be a daunting prospect. Although the E20 delivers high general performance, its limited upgradability and storage space make competing consumer desktops–including many of the offerings in the mainstream PC category–rather attractive. Such machines can provide comparable (or superior) performance, and are typically more generous where future upgrades are concerned.
With pricing starting as low as $449, the ThinkStation E20 is a solid choice if your business demands Lenovo's time-tested pedigree and vaunted ThinkVantage software. Expect sacrifices aplenty, however. If you need business-caliber support, Acer's Veriton X498G provides similar strengths (and faults) for nearly a few hundred less. If you don't necessarily require the software, consider a budget machine such as the Gateway SX2840-01, which gives comparable performance for $559.