At a Glance
Expert's Rating
Pros
Superslim chassis fits nicely on (or under) a desk
Hard drive and DVD burner are easy to replace
Cons
No real upgradability
Lacks diversity in expansion options
Our Verdict
Speedy performance is the name of the game for Lenovo's slim M90p, but the competition brings more muscle for less.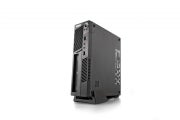 The Lenovo ThinkCentre M90p is a superslim addition to a home-office or work environment. If size is all that matters in your quest for a new desktop rig, the M90p offers the best performance among systems with a slender physique. However, some competing desktops that are available for less than this PC's $850 price tag (as of August 31, 2010) offer better loadouts and more features.
You might not believe it due to the machine's compact size, but the M90p delivers some of the fastest performance you can find within the business PC (or even mainstream desktop) category. Nestled within this tiny warrior is a 3.33GHz Intel Core i5-660 processor, 3GB of DDR3 memory, and a 500GB hard drive.
The M90p cruised to an eye-opening score of 129 on our WorldBench 6 series of tests–but a number of lower-priced systems, including the $699 Acer Veriton X498G and the $560 Gateway SX2840-01, came within range of the M90p's performance. Although the M90p may be fast, it lacks the superior price-for-performance ratio of its peers. Its gaming performance was par for the course in the category, too, as the M90p failed to produce playable frame rates on our Unreal Tournament 3 benchmark (at 2560 by 2100 resolution and high quality).
Given the M90p's slim size, the interior provides little to talk about. To Lenovo's credit, the case unfolds easily for quick access to the desktop's guts. But it offers no upgradability whatsoever–no free hard-drive bays, no PCI slots, no 5.25-inch bays, zilch. Swapping out the included DVD burner or 500GB hard drive is a fairly simple process, given their location and screwless accessibility on one half of the unfolded case.
Unfortunately, the compactness of the M90p truly proves to be its undoing in regards to the connections it offers–or rather, doesn't offer. The front of the system houses only two USB ports. The rear triples that to six USB ports and throws in a gigabit ethernet port, a VGA connection, and a DisplayPort connection. Really? DisplayPort? We can't fault Lenovo for future-proofing, but perhaps a more widely used connector would have been a stronger choice. As it stands, you're stuck with a lower-quality signal to your display if your monitor doesn't support DisplayPort and you have no DVI-conversion cable.
Lenovo throws a keyboard into the mix that appears to be bigger than the M90p itself. Regardless, it's strictly utilitarian save for its black, gray, and purple coloration; it supplies no additional buttons for controlling your system's volume or launching applications. The included mouse is as plain as a mouse could be.
The M90p offers Lenovo's ThinkVantage Technology software, which performs automated software and hardware-driver updates and manages data backup. You'll also find tools that present detailed system information, monitoring system changes to simplify troubleshooting equipment problems. This software is of most value to businesses that need a streamlined maintenance process.
Svelte and capable, the Lenovo ThinkCentre M90p combines useful software and speedy performance with a minuscule footprint. But unless space is a premium in your home office or workplace, you have some alternatives to consider that could save you a few hundred dollars. Acer's Veriton X498G is the current standout, offering similar performance and business-tailored software for a few hundred dollars less. If you aren't sold on bundled software packages and you would rather rely on your own tools, desktops in the budget PC category–the Gateway SX2840-01, for instance–provide comparable performance for less, though you'd be sacrificing business-friendly functionality.