Many other apps, such as Tunebite Platinum, charge for the privilege of ripping videos from YouTube and other Flash-based video sites into the format you want. Freemake Video Downloader is free, and is extraordinarily simple to use, with bright, colorful icons and a streamlined graphical user interface. Providing no copyrights are violated in the process, it's hard to imagine a reason not to use it.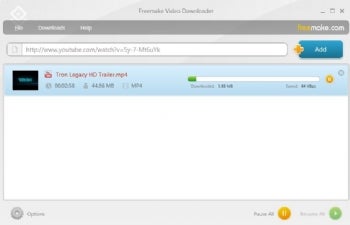 To use Freemake Video Downloader, simply navigate to the video in your favorite video site, like YouTube or DailyMotion (nothing with security like Hulu), then paste the entire URL into Freemake Video Downloader and click Add. You'll be able to automatically chose the definition of the video (SD, 720p HD, etc) if the video site uses the option, as well as the file format. Then click Downloader. Several minutes later, you'll have a standalone video file on your PC. Windows Media Player will play some of the formats, but for best results, download the latest version of VLC, which plays everything.
Freemake Video Downloader can also convert existing videos to AVI or grab the audio track and turn into MP3, but you may wish to convert to other formats. At that point, try the sister app from Ellora Assets Corporation, Freemake Video Converter. FVC will let you take your video file and turn it into another format (some of which Freemake Video Downloader can convert to when it first rips the file from the Web, but some that FVC doesn't support, so it helps to have both apps).
Whatever format you choose to download into or convert into, be aware that Freemake Video Downloader has presets for everything, and these presets can't be changed. The average video will have eight different options to choose from, and that's it. For finer control over video ripping, try Tunebite Platinum, though that app is far more complicated and less user friendly than Freemake Video Downloader.
Freemake Video Downloader supports Web video up to 1080p, so grab those high-def trailers or other videos and watch them offline on your gigantic monitor, all without paying a dime. What's not to like?