At a Glance
Expert's Rating
Pros
Beautiful multitouch screen
Built-in TV tuner
Cons
No 802.11n networking
Poor internal speakers
Our Verdict
This 20-inch all-in-one desktop has great visual appeal, but identically priced all-in-ones deliver a stronger overall package.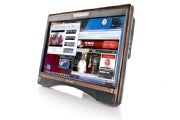 Looking at the Lenovo IdeaCentre C315 is "a bit like staring into the sun"–that's a direct quote from our notes in reference to the bright, vibrant display on this 20-inch all-in-one desktop.
But the raw power of this system's screen isn't enough to compensate for the flaws that mar this $750 (as of September 1, 2010) machine. Of course, no one should expect perfection from a PC this inexpensive, in the budget all-in-one category. It's just that some of the C315's competitors serve up better performance and more features without ratcheting up the price.
Powering the IdeaCentre C315 is AMD's Athlon II X2 250u processor, a dual-core CPU clocked at a staggeringly low frequency of 1.6GHz. Accompanying it are 4GB of DDR2 memory and a single 500GB hard drive–an average amount of storage for the category.
The C315's score of 68 on our WorldBench 6 series of tests is appropriate for the category–barely. Budget all-in-one darlings such as the HP TouchSmart 300 and the Gateway ZX4800-06, which fall into the same price bracket, produced higher scores (98 and 84, respectively). Don't expect games to be the saving grace for Lenovo's desktop, either: It failed to generate playable frame rates on our Unreal Tournament 3 benchmark, a result that's fairly typical of most budget all-in-ones we test.
Unlike the screens of other all-in-ones we've reviewed, the IdeaCentre C315's 1600-by-900-pixel display sits a little recessed behind the system's front panel; typically most displays are flush with the front of the system. The design doesn't disrupt the crisp coloration and pleasing separation of grayscales in the display's picture, but it is slightly stranger to look at in comparison with competing all-in-one desktops.
The system's multitouch, glossy panel can be a little difficult to watch depending on your room's lighting setup–darker scenes can evoke a distracting mirror image of yourself if you're not careful. That said, the C315's viewing angles are excellent; the picture still looks as bright as can be from locations where you probably wouldn't try watching a movie.
You'll find a DVD burner on the side of the system for movies and whatnot–no Blu-ray support on this machine, though you wouldn't exactly benefit much from the non-native-1080p picture. The system's integrated wireless networking goes only up to 802.11g; that's a disappointment, since we've grown accustomed to seeing an 802.11n connection on the majority of all-in-one desktops, even at the low end. At least Lenovo didn't scrimp on the wired side of the equation: a single gigabit ethernet port joins a built-in TV tuner connection on the system's rear.
As far as the C315's other connections go, it presents an average amount of diversity for an all-in-one desktop. Two USB ports and a multiformat card reader sit on the system's left side, and four additional USB ports and a mini-FireWire 400 port reside at the rear. We'd kill for some advanced audio options beyond the system's default stereo hookups, or even some additional video input/outputs, but such was not meant to be.
Lenovo does make note in the included manual of how you can go into the system's insides and replace the memory–that's about as close to upgradability as you'll find on an all-in-one desktop, and for that we salute the company. If there were only a way to upgrade this system's built-in speakers, too; our desire for other audio connections is partly due to the horrific, laptop-like sound quality the C315's little ear-thumpers produce. One word, Lenovo: bass. Where did it go?
A wired keyboard and mouse accompany the C315. They're completely generic in form and function, which is bad enough. But wired? Really? Lenovo does throw a remote into the box, which outweighs the tethered input devices to some degree, but all-in-ones were born and bred for wireless connectivity, be it from the system to your network or from your hands to the system.
It's hard to find the ideal combination of connections, features, and speeds when you're aiming at this low of a price tag in the all-in-one category. The Lenovo IdeaCentre C315 offers a vibrant display, but you'll find superior performance (at the same price) from the Gateway ZX4800-06, not to mention superior wireless connectivity and wireless peripherals. Lenovo's integrated TV tuner gives it a leg up, but the HP TouchSmart 300 makes a stronger showing still, for not much more.