If you need a free app that can convert between several pre-set video formats with a few clicks, Freemake Video Converter is the one you want. Not only is it a competent converter in its own right, it works well with Ellora Assets Corporation's other app, Freemake Video Downloader, which can grab videos off the Web for later conversion.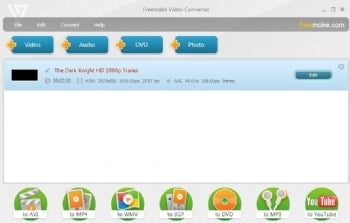 One big limitation with Freemake Video Converter is that it only supports the most popular video formats: AVI, MP4, WMV and 3GP for standalone video, burning to DVD format, ripping the audio into MP3, or converting to FLV for upload to YouTube. Each format has five or so presets with no granular control beyond that. Popular enthusiast formats such as DIVX or XVID are not supported at all. Still, for a free product with a no-brainer interface, Freemake Video Converter is where it's at. I especially like the 3GP format support, which you can then sync to an iPhone for playback. The only 3GP pre-set is for older iPhones, so if you've got an iPhone 4 or an iPad, use the MP4 pre-sets instead; Freemake Video Converter has one for each model.
I tested Freemake Video Converter by converting a high-def MP4 video of a trailer for The Dark Knight, ripped from the Web with Freemake Video Download. I successfully converted it into a 320 x 240 3GP file, and it took only a few minutes even on an older laptop.
Just like competitor VideoSpin, Freemake Video Converter also includes utilities for editing a video, such as cutting and transformation. This ability seems like an afterthought in Freemake Video Converter, unlike VideoSpin's robust functionality. VideoSpin can also convert files, but has the drawback of losing functionality unless you pay $15.
Freemake Video Converter's biggest assets are that it lives in gratisville, and that it has a simple UI and presets for many popular video formats. It's hard to complain about a free product that does so much, but a few more video formats and resolutions in future releases would make this app ideal. For most of us, what it's got will do for now.