Apple's "social network for music" may be off-key. Ping, a new feature in iTunes 10 that lets users follow their favorite artists and find out what music their friends are discussing and downloading, was unveiled Wednesday by CEO Steve Jobs at Apple's Fall Music Event in San Francisco. Just two days later, a cacophonous crowd of critics are carping about Ping's rampant spam, security holes, crippled Facebook integration, and overall poor design.
Gaga for Spam
Spam is already clogging Ping's boards. As the screen shot below illustrates, four of eight posts in Lady GaGa's comments window are spammy pitches for iPhones and iPads.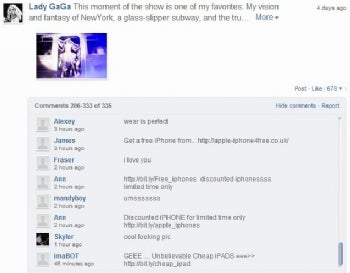 Chester Wisniewski, a blogger for security software vendor Sophos, chided Apple for not anticipating the spammers' assault on Ping:
"Most of the security industry has been pointing out the migration of spam from an email-only venture to blog/forum comments, Facebook, Twitter and other Web 2.0 platforms. But apparently Apple didn't consider this when designing Ping, as the service implements no spam or URL filtering. It is no big shock that less than 24 hours after launch, Ping is drowning in scams and spams," Wisniewski writes.
Facebook Woes
Meanwhile, Apple has failed to deliver on its promise of tight links between Ping and Facebook, ostensibly because the two sides couldn't hammer out a last-minute agreement before Ping's debut. During Jobs' Wednesday presentation, Facebook integration was touted as one of Ping's cool features, but users quickly learned they couldn't use Facebook to find friends on Ping. Discussions between the two sides are ongoing, but it's unclear when (or if) the Apple-Facebook standoff will end.
Bad Design: iTunes Sucks
Early glitches aside, many bloggers aren't thrilled with Ping's implementation, particularly the integration with iTunes.
PCWorld's Jared Newman writes: "At least on my PC, iTunes is an abomination. I will avoid opening it when possible because of how long it takes to load and how chunky it feels to operate, and that's not going to change because of a social network. Also, people whose work computers don't have iTunes installed won't be able to use Ping for the great American pastime of slacking off at work."
Computerworld's Jonny Evans, who praised some of Ping's attributes, also knocked its walled-off iTunes design: "That lack of focus on the world beyond iTunes could be Apple's Achilles Heel as it makes its best move yet into social networking…Without inclusion of content from the wider community, Ping will lack that visceral, addictive engagement 'stickiness' that characterizes other successful networks."
And PCWorld's Ian Paul made this somewhat dire prediction: "It's not all bad, but if Ping doesn't improve soon this music-oriented social network will bomb faster than an American Idol wannabe."
OK, speculation time: It's a safe bet that a Web version of Ping is in the works, one that could debut with Apple's rumored cloud-based version of iTunes. Looks like we'll have to wait until next year to find out.
Contact Jeff Bertolucci via Twitter (@jbertolucci) or at jbertolucci.blogspot.com.