Craigslist shutdown its adult services listings on Friday replacing the link with a black bar with the word "censored" where the listings previously appeared.
The move comes after years of pressure to remove the ads, including an open letter from 17 state attorneys general in late August. The letter said "sharp public criticism of craigslist's Adult Services section reflects a growing recognition that ads for prostitution — including ads trafficking children — are rampant on it." The attorneys general requested Craigslist take immediate action to stop accepting ads since it "cannot, or will not" screen them.
The letter wasn't Craigslist's first scuffle regarding sex-related ads. The site formerly had an "Erotic Services" section that was shut down in May 2009. It was pulled after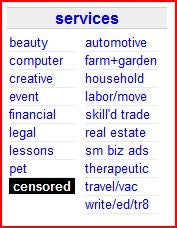 law enforcement filed suit, claiming the classifieds facilitated prostitution, and after the alleged "Craigslist Killer" was arrested.
The "Adult Services" section took its place shortly after. Craigslist said the postings would require manual, human approval of all entries and cost $10.
In October 2009, an Illinois judge dismissed the lawsuit saying intermediaries aren't responsible when customers use their services to commit unlawful acts.
Craigslist executives didn't give any reasoning for its policy change as of Saturday. It is unclear if the listings will remain offline permanently, or if the San Francisco-based classifieds service is making a policy statement by its action.
If the "Adult Services" section is gone for good, it's a safe bet those type of listings may soon flood other categories on the site.