Web-based polls and views expressed online show popular opinion is against the censoring of adult services ads on Craigslist. A poll at Mashable shows 71 percent of the respondents voted no to the question "Should Craigslist's Adult Services be censored?" Meanwhile, the Washington Post asked its readers, "Do you agree with Craigslist's decision?" to block access to its Adult Services section. Fifty-two percent of them said no.
At last count, 1989 people participated in the Mashable poll. Thirty-three of them voted Craigslist's Adult Services shouldn't be censored because prostitution shouldn't be illegal in the first place; 22 percent opposed censorship because they believed existing policies at the service were sufficient in dealing with prostitution; and 16 percent voted no "for another reason."
Of those supporting censorship, 19 percent felt it should be done because Craigslist is indirectly profiteering from prostitution. The service charges $10 for an ad in the section and $5 for a renewal. This year, it's estimated Craigslist will earn $44 million from the section, or a third of all its revenues. Another 10 percent endorsed censorship "for other reasons."

The Post poll garnered 2089 respondents. Thirty-six percent of them agreed with the decision to block off the section because the ads were inappropriate. Another 12 percent "sort of" supported the decision because they felt the company should have taken better steps to police the ads.
The brass at Craigslist have been mum on the shutdown since they stopped taking advertising for the section and replaced its links on landing pages throughout the United States with the word "censored" in white type on a black background. That graphic treatment makes the word very prominent on the relatively drab pages. It has also led to speculation that there's more behind the shutdown than a unilateral capitulation to the forces of morality.
Some quarters have argued that the shutdown is a high stakes public relations ploy by Craigslist to win support for reopening the section, which is alive and well under its old nomenclature "Erotic Services" on the company's sites outside the United States. Last year, in an action designed to blunt pressure to stop taking adult-oriented ads from a number of Attorneys General, Craigslist shuttered its Erotics Services category in the United States and replaced it with an Adults Services one.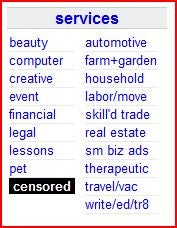 It's easy to see why such a ploy would be very risky. While the shutdown will raise an expected hue and cry from the civil libertarian set, it will also associate Craigslist in the mind of many in the public who get their news only through headlines as an ally of sex peddlers, prostitutes and traffickers of women and children.
Whatever Craigslist's motives for blocking access to Adult Services, the move may be more sizzle to steak because there are signs that the ads are moving into other areas of the network. On Sunday, ads alluding to cash exchanges for sexual services and seeking massage clients could be found in the Casual Encounters section of the service's websites, according to ABC News.
Note: When you purchase something after clicking links in our articles, we may earn a small commission. Read our affiliate link policy for more details.