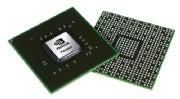 LG Electronics on Tuesday announced a new series of smartphones with next-generation dual-core processors, which should provide a big leap in performance while maintaining device battery life.
LG's new Optimus line will include smartphones running on Nvidia's Tegra 2 dual-core chips, which will also allow handsets to play 1080p high-definition video, LG said in a statement.
Most of today's smartphones come with single-core processors and are capable of playing only 720p resolution video. Beyond full HD support, dual-core processors could enable smartphones to run more demanding applications like videoconferencing.
The Optimus smartphones will "debut" in the fourth quarter of this year, the company said in a statement. The company did not specify when the phones would be generally available for purchase.
The new smartphones will come with two 1GHz processors. The Tegra 2 chip will provide double the Web browsing and up to five times faster gaming performance over single-core 1GHz chips, the company said.
Some of the most advanced smartphones today, including Motorola's Droid X, Apple's iPhone 4 and HTC's Evo 4G come with single-core 1GHz Arm processors.
Nvidia announced Tegra 2 in January, initially targeting the chips at tablets. The company has since said smartphones with Tegra 2 chips would ship later this year. Tegra 2 couples processor cores based on Arm's Cortex-A9 design with other components such as Nvidia's GeForce graphics core.
LG is one of the early companies to announce a dual-core smartphone, and major phone makers are expected to follow as chip makers release dual-core chips. Arm licensee Texas Instruments has said it will ship its first dual-core OMAP4430 chip later this year. Qualcomm has already shipped its first dual-core processor, the MSM8660, and plans to start testing samples of a faster dual-core chip, the QSD8672, later this year.
Samsung also jumped into the dual-core smartphone processor race on Tuesday. The South Korean chip maker announced its first dual-core mobile processor, code-named Orion, targeted at tablets, netbooks and smartphones. Orion features two 1GHz ARM Cortex A9 cores, and will be able to record video at a 1080p resolution. The processor will be available for testing in the fourth quarter and will be mass produced starting the first half of 2011.