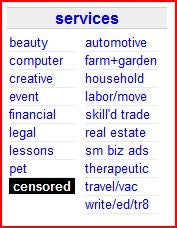 Craiglist shut down its controversial Adult Services section of its listings late last week and replaced it with the words "Censored" over a black bar in what seems to be a bow to pressure from and open letter from17 attorneys general last month. Many are calling the "Censored" black bar founder Craig Newmark's way of striking a blow for First Amendment rights while others call it a ploy to stave off a lawsuit. If anything, Newmark has shown us several lessons learned from the situation.
1. It's All About the Revenue
While founder and "caretaker" Newmark has made Craigslist an advocacy group and charity, Newmark is also an entrepreneur. His listing services in several cities are estimated to generate $122 million in 2010, and Adult Services makes up about 30 percent, or around $36 million, of that amount. In 2009, a lawsuit by the Cook County Sheriff's Department prompted Newmark to change its controversial "Erotic Services" to "Adult Services" and add a $10 fee to the new listings. The change, which was created in hopes of getting lawmakers off its back, also provided additional money to Craigslist sites.
2. Free Speech?
Founder Newmark has also been adamant about keeping Craigslist more about community than a dysfunctional corporate entity. And many in cyberspace are feeling the situation is about free speech rather than peddling prostitution. Polls by The Washington Post and Mashable show that many find nothing wrong with the ads or prostitution itself, although some believed the site indirectly profited from selling flesh. It seems as if the site is trying to see what its users think or shore up support to decide how it will proceed, rather than make a statement about free speech on the Internet. I'm also not sure profiting from prostitution is what the First Amendment of our Constitution promised or intended.
3. The Power of Suggested Lawsuits
While there hasn't been a lawsuit filed by the 17 attorneys general, the mere threat of a costly trial is enough to get Craigslist and businesses like it to take notice and action. This gives attorneys general and law enforcement much more power and leverage against companies it considers engaged in wrongdoing. The open letter from the attorneys general was sent Aug. 24. By Sept. 4, the Adult Services section of Craiglist was shuttered nationwide.
4. It Isn't About the Communications Decency Act
The federal Communications Decency Act actually protects Craigslist, and other Websites against liability for what material posters write, wrote the New York Times, but the controversy isn't so much about law but about public relations. The league of attorneys general is showing their tough stance on prostitution, human trafficking and sex crimes by pursuing Craigslist and judging it in a court of public opinion rather than a courtroom. Craiglist is feeding into this by creating a public relations stunt of its own, its "censored" content and its own controversy.
5. The Migration of Adult Services
Despite the legal and ethical problem with prostitution, I think most people know that sex workers will find other ways to advertise on Craigslist, namely the Personals sections. That was the reason CEO Jim Buckmaster gave for creating Adult Services in the first place, to keep posters from spamming other categories. Sex workers have found a place that is lucrative and they have no intention of leaving it as long as they have a computer and enough coded language to get their point across.
What the controversy has taught us is that sometimes it's not really about a tangible lawsuit but grandstanding by public officials. It's also taught us that a company doesn't have to do anything to combat threats but silently protest on a Website seen by millions each day. While I think both sides have valid points, it's unlikely the issue will be settled in a court of law or the court of public opinion, and prostitution and erotic massage providers will continue to post ads somewhere on Craiglist. However, no matter where you stand on the prostitution issue or how much Craiglist has given to charities preventing human trafficking, I can't help but think Craiglist is losing the most over this issue. Prostitution, with all its unpleasant and seedy forms, has never raised the public opinion of any company.
Reach or follow Barbara E. Hernandez on Twitter @bhern.