HP has sued its former CEO Mark Hurd, claiming his new position as president of Oracle "has put HP's most valuable trade secrets and confidential information in peril."
"Despite being paid millions of dollars in cash, stock and stock options in exchange for Hurd's agreements to protect HP's trade secrets and confidential information during his employment and following his departure from his positions at HP as Chairman of the Board, Chief Executive Officer, and President, HP is informed and believes and thereon alleges that Hurd has put HP's most valuable trade secrets and confidential information in peril," HP alleges in a complaint filed this afternoon in Superior Court for Santa Clara, California.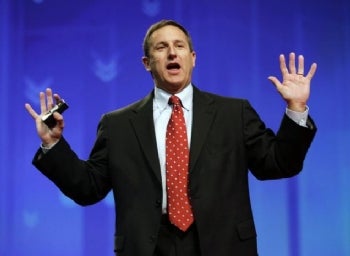 In Hurd's new position as president and a member of the board at a major competitor of HP's, the company claims "Hurd will be in a situation in which he cannot perform his duties for Oracle without necessarily using and disclosing HP's trade secrets and confidential information to others."
Hurd left HP in early August after the conclusion of a probe into claims that he sexually harassed an HP contractor who was a former softcore porn star. The internal investigation found that Hurd had not violated HP's sexual harassment policy, but he did violate HP's standards of business conduct.
This week Oracle brought Hurd aboard to replace Charles Phillips whose departure has been rumored since he made some public miscues of his own. Oracle has denied that Phillips is leaving.
Part of Hurd's new job at Oracle will be to raise awareness of its Exadata systems which, ironically, were launched on HP hardware but moved to Sun Microsystems boxes after that company was acquired by Oracle. In a press release announcing Hurd's appointment, he mentions Oracle beating IBM, but makes no mention of HP. "As Hurd well knows, IBM and HP are competitors in the enterprise storage business," the complaint observes.
"Hurd's clear effort to avoid mentioning HP is telling in light of Oracle's own SEC filing indentifying HP as a competitor," it continued. "What Hurd and everyone else knows is that the Exadata server mentioned in his quote is a direct competitive product to HP's Proliant Server."
The action against Hurd is for breach of contract and the threatened misappropriation of trade secrets. It is asking the court, among other things, to temporarily block Hurd from taking his new position with Oracle and award HP damages, attorneys' fees and court costs.