Tired of getting e-mail from Nigerian strangers offering to help you claim several million dollars? Don't want your inbox littered with offers to enlarge private body parts? Try Cloudmark DesktopOne Basic (free), which does an excellent job of killing spam before you ever read it. Even if you have a spam filter on your e-mail software, you'll find it useful.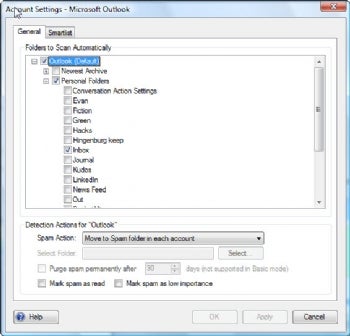 Cloudmark DesktopOne integrates with your existing software, including Outlook, Outlook Express, Thunderbird, and Windows Mail. It checks incoming e-mail, determines whether it's spam, and then automatically routes spam to a spam folder. If you find that piece of spam makes it through to your inbox, mark it as spam, and any messages from that address will be treated that way in the future. If you find a piece of spam that in fact isn't spam, mark it as legitimate, and it won't be treated as spam.
In practice, I found that Cloudmark DesktopOne did a better job of handling spam than did Outlook's own spam filter. Over the course of a day, it detected half a dozen pieces of spam that Outlook overlooked.
Cloudmark DesktopOne takes a unique approach to spam filtering. When a message comes in, the software looks at its characteristics–especially the address of the sender–and creates a "fingerprint" for that e-mail. It then compares that fingerprint to those in the community of Cloudmark DesktopOne users. If enough users have considered it spam, Cloudmark DesktopOne considers it spam as well.
This sounds like this might take some time, but in practice, it happens instantaneously. And it's quite accurate. It also means that every time you use Cloudmark DesktopOne to mark a piece of e-mail as spam, you're protecting others from spam as well, because that information is taken into account when others get e-mail.
The free version of Cloudmark DesktopOne will check for spam on a single folder only, such as your inbox. If you want the software to check more folders, and if you would like other features–such as the ability to manually scan a folder–you can upgrade to the Pro version by paying $20 per year.