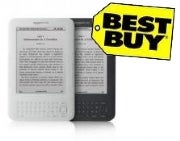 Amazon's Kindle e-reader, once available only online, is making its way to yet another offline retailer, Best Buy. The electronics retailer says it will begin selling the Kindle in stores this fall. Best Buy will be the third retailer to offer the Kindle, following Target and Staples, as Amazon continues to increase the e-reader's offline presence.
Amazon's offline Kindle push is likely a means of competing with an increasing crop of rival devices, including e-readers from Sony and Barnes & Noble, as well as tablets like Apple's iPad, all of which already are available in retail stores. Making the Kindle more available offline has benefits for Amazon; for one, it's giving more potential customers access to the device before buying it, rather than forcing them to purchase a Kindle online, often sight-unseen. But the move is not without its risks, too, as Best Buy will now carry all of the major e-readers in its stores, and is preparing new displays that will allow shoppers to test the devices side-by-side. Amazon must be confident in the Kindle's ability to stand up to the competition.
Best Buy initially will offer the $139.99 Kindle With Wi-Fi and the $189.99 Kindle 3G, and will begin selling the 9.7-inch Kindle DX "later in the season." Amazon does not release Kindle sales statistics, but the company's e-readers were the first to reach mass-market popularity, and have been immensely popular since the first model launched in late 2007.
The Kindle has faced increased competition recently, though, as Barnes & Noble launched its Nook e-reader and Sony launched its line of Reader devices. Barnes & Noble and Sony also cut prices on and added features to their devices in recent months, forcing Amazon to follow suit. In late July, Amazon unveiled its new Kindle models, which offered more features than past devices at a lower price. These are the Kindles that will be available in Best Buy stores, alongside the Nook, as well as Sony's Reader Touch Edition, Reader Pocket Edition, and Reader Daily Edition.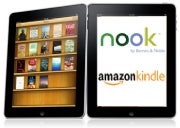 Amazon's Kindle doesn't just face competition from these dedicated e-readers; it also must compete with Apple's immensely popular iPad. The iPad offers free access to a Kindle e-reader app as well as Apple's own iBooks app, and also is available in Best Buy stores.
That means that Amazon is opening its Kindle e-readers up to an entire new level of scrutiny. Shoppers will be able to peruse Best Buy's e-reader displays, directly comparing the two Kindle models with devices from Sony and Barnes & Noble. As if that weren't enough, those shoppers will be able to handle Apple's iPad in the same store. Will Apple's slick design and color screen lure shoppers into buying an iPad? Or will the tablet's high price drive shoppers back to the dedicated e-readers? And even if that's the case, will the Kindle be able to beat out the Nook and Sony's Readers? Time will tell.