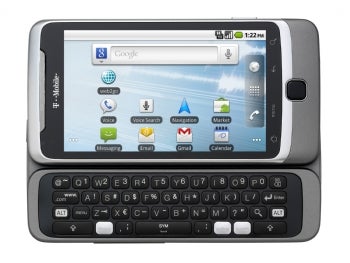 T-Mobile has been crowing for quite some time now about the data speeds it is getting with its HSPA+ network, which is now in 55 US cities. Today it announces the first phone–the T-Mobile G2 (HTC)–that can actually take advantage of those speeds.
The G2 is the first smartphone optimized for the T-Mobile HSPA+ network. Whereas its predecessor the G1 (and most other smartphones) maxed out at 7.2 megabits per second (Mbps), the G2 can handle data speeds of up to 14.4 Mbps.
T-Mobile says the HSPA+ network can pump out "theoretical" download speeds of 21 Mbps, and a representative said download speeds of up to 19 Mbps have been reported in Philadelphia. That's screaming fast. In PCWorld's own testing of the T-Mobile network in New York City, we measured top speeds of around 10 Mbps.
T-Mobile claims its network is faster than Sprint's WiMAX network, which promises speeds of between 3-6 Mbps, but actually delivers something less than that today.
Let's say the G2 hits download speeds of 5-10 Mbps consistently. What does that mean? It means that the stuff you already do on your smartphone, like downloading email, viewing maps and reading the news, become lightning fast. No waiting around for pages to load or for files to download. It could also make possible new bandwidth-heavy applications like watching HD video or having videoconferencing sessions from anywhere.
The G2 will become available for pre-orders by current T-Mobile customers later this month, the carrier says. No further timing or pricing information is available now.
The phone will run the new Android 2.2 operating system (which supports Flash), and will introduce a couple of other tricks we haven't seen before in a smartphone: The G2, T-Mobile says, is one of the first smartphones to offer the new Voice Actions feature of Google Search, which lets you control your phone with your voice.
The phone is also tightly integrated with the Google Voice service. T-Mobile says you'll be able to set up a Google Voice account directly from your phone's home screen, and even use your existing cell phone number as your Google Voice number.
Here are the rest of the G2's stats:
3.7-inch screen
Physical QWERTY keyboard
800M MHz Snapdragon processor
Seven customizable home screen panels, with a dedicated panel for one-click access to Google apps
HD video camera for recording high-definition (720p) videos
5-megapixel camera with LED flash and autofocus
Pre-installed 8 GB microSD memory card with support for up to 32 GB