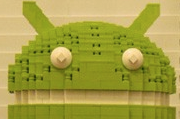 Grayson Wendell must really love the Android operating system—so much that he constructed a huggable model of the Android mascot entirely out of Lego bricks. Using a program he wrote to design Lego domes (does this make it CALDD software—computer-aided Lego dome design?), Grayson spent a week developing and building the 15-inch Lego mascot.
The photos show the 15-inch LEGO Android getting cozy with a family of several plastic Android toys, as well as a hacked iPod running Android and an Evo.
Have a look at the photos of Grayson's creation over at Engadget.
Where is the Apple iOS fanart? (Oh wait!) But if you do wind up building a larger Android mascot out of Lego bricks–or some other remarkable Lego fanart, for that matter–send us a photo to pcwgeektech <at> gmail <dot> com and we'll post it on GeekTech!
[via Engadget Alt]
More from PCWorld's GeekTech blog…
Follow Alessondra Springmann and Geek Tech on Twitter.