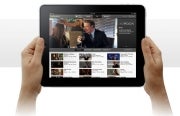 Rumor has it Apple will soon launch a new iPad tablet, and that's a good thing. Because the first-generation model is already looking a bit creaky.
I know that may sound crazy. After all, we're talking about a product that's been shipping only a few months. But considering the insanely rapid rate of change in mobile devices, the iPad as we know it is quickly becoming a relic.
Ironically, Apple's own post-iPad products, specifically the iPhone 4 and its new (fourth-generation) iPod Touch, are helping to speed the first-gen iPad's march toward obsolescence. And all of those Android tablets we've been reading about, particularly the Samsung Galaxy Tab, are playing a major role as well.
The iPad's most glaring omission, at least from a competitive standpoint, is its camera-less design. For a mobile device with a consumer bent, that's a major shortcoming. The iPhone 4 and 4th-gen iPod Touch have front and rear cameras, and both offer Apple's FaceTime video-chat feature.
Samsung's Android-based Galaxy Tab has front and rear cameras too, but no FaceTime, which Apple hopes to make an industry standard. It remains to be seen how well the Galaxy Tab's video-chat feature works with its fellow Android tablets.
The iPad needs to slim down, too. The 3G model weighs in at 1.6 pounds — roughly twice that of the Galaxy Tab. True, the Tab is a smaller device with a 7-inch display (versus the iPad's 9.7-inch), but it does make the iPad appear a tad portly. This may chance soon, however. Another recurring rumor says a smaller iPad, possibly one with a 7-inch screen, is in the works.
Some iPad improvements won't require new hardware, though. Apple's iOS 4.2 upgrade, scheduled to arrive in November, will bring wireless printing to the iPad. (The iPad's printing shortcomings have been well-chronicled, although some folks have devised ingenious workarounds.)
Certainly, the next-gen iPad will include under-the-hood improvements too, such as more memory. It currently has 256MB; the Galaxy Tab has 512MB. But although Apple recently lightened up on its developer tool restrictions, it's highly unlikely we'll see a Flash-friendly iPad before, well, the proverbial snowball melts in Hell.
Contact Jeff Bertolucci via Twitter http://twitter.com/jbertolucci ) or at jbertolucci.blogspot.com .