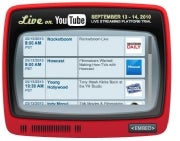 Google's YouTube division is testing the waters of live video streaming with a two-day trial that starts today and offers a mix of entertainment and news content from media partners. YouTube's live streaming efforts are an ambitious first step to break into offering live Webcasts itself with its own tools.
Starting this Monday and Tuesday at 8 a.m. (PDT), the online video giant will feature live entertainment programming from four media partners. YouTube says that its efforts are part of a "live streaming platform trial." YouTube's live video content can be accessed via YouTube.com or via an embedded Web app that can be placed into a Website or blog.
Video programming will ranges from news and entertainment from Rocketboom, instructional video from Howcast, celebrity and lifestyle programming from Young Hollywood, and the video destination Next New Networks will offer a variety of programs including satire from its Barely Political channel.
The live YouTube video channel is being promoted on YouTube's homepage, which states: "Today and tomorrow we're conducting a limited test of our new live streaming platform in conjunction with the partners featured here. Watch the videos below for more information about their must-see events."
Content and Comments Wanted
Part of the trial of the service includes what YouTube is calling a Live Comments module which is visable to viewers durring Webcasts and allows them to chat with others and the live Webcasters as they watch. YouTube also says part of its experimental live streaming platform will also include support for content from a wide range of sources. "All broadcasters need is a webcam or external USB/FireWire camera," according to the YouTube announcement.
The move comes as Google is facing increased competition from Facebook that, according to ComScore, surpassed Google as the online destination where users spend the most time. YouTube is still the number one video destination online, but other video-centric sites, such as Ustream.tv and Justin.tv are nipping at its heels.
In July, ComScore reported that Facebook had jumped to become the third largest video destination on the Web. Google's YouTube doesn't have much to worry about yet, however. According to ComScore, YouTube ranked as the top online video content site on the Web with 143.2 million unique viewers, followed by Yahoo Sites with 55.1 million, and then by Facebook with 46.6 million.
The move also comes as Google is getting set to take the wraps off its Google TV initiative that it says is a platform that joins the Internet with traditional television.
Live Streaming for the Rest of Us?
For the moment, YouTube is only experimenting with live streaming with select partners. It's not clear what YouTube's future live streaming plans are, and whether they include making the feature available to any user intrested in hosting a Webcast. Currently UStream and Justin.tv both offer tools that allow the public to host Webcasts. Monday's test by YouTube marks the first time the company has used its own tools to produce its own live Webcast.
In the past Google has offered Webcasts for many of its product launch events via YouTube including Webcast of rock band U2 last October and President Barack Obama answered questions live on YouTube in February.
Connect with Ian on Twitter (@ianpaul).