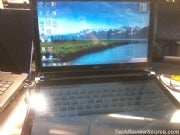 Acer is working on a dual-touchscreen multitouch laptop with no physical keyboard or mouse that would be available by fall 2011, according to several reports. Instead of using physical inputs, one touchscreen would function as the display and one would act as the keyboard and trackpad, similar to Toshiba's Libretto W100. Acer's device is reportedly sporting two 15-inch touchscreens, runs Windows 7 and has an Intel Core i5 2.67GHz processor under the hood, according to TechReview Source.
No further specs about the device are available, such as RAM, storage capacity, or whether the it wil handle pen-based touch inputs as well as Windows 7's multitouch.
Biggest Dual-Screen Yet
However, Acer's device could be the largest dual-screen laptop so far. Toshiba's limited edition Libretto W100 features two 7-inch touchscreens.
Computer manufacturer MSI was showing off a dual-touchscreen laptop with 10-inch screens during the Consumer Electronics Show in January.
Asus has also been discussing a smaller dual-touchscreen device called the Eee Reader since early 2009.
Unannounced CPU, Too?
If you take a quick look at Intel's current list of Core i5 processors, you'll notice the only processor that fits TechReviewSource's specs is the Core i5 750, a desktop chip. It's not un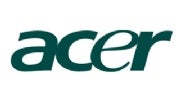 heard of for a manufacturer to try and cram a desktop processor into a laptop, just look at the Eurocomm D901C Phantom-X, for example. But what's more likely is that the rumored Acer laptop is sporting the equally rumored Intel Core i5 580M. The 580M reportedly runs at 2.66GHz and could be available before the end of the year. Another possibility is that the rumored device would not run a Core i5 at all, but the Intel Core i7 620M launched in January.
TechReviewSource claims it is trying to get a video of Acer's dual screen laptop in action, but an anonymous source tells the blog Acer's prototype is "slow and buggy." That wouldn't be surprising considering the device is supposed to be in development and wouldn't launch until late 2011.
But a 15-inch dual screen laptop is an awfully large and presumably expensive device to produce — especially when it's not clear if anyone would even want a dual-touchscreen laptop. However, Engadget reported in August that the Libretto W100 sold very quickly during its debut on Amazon.
So, who knows? Maybe double-screened laptops are the future, as electronics makers experiment with virtual keyboards in place of physical keys on more than just mobile devices.
Connect with Ian on Twitter (@ianpaul).