With Nokia's chief executive and head of smartphones both departing, the new hires' biggest priority will be to reassert their company's dominance as the top handset maker in the world. But Nokia won't be able to do that without shipping prod
ucts in a timely manner.
Last week, Nokia announced that Stephen Elop, previously the head of Microsoft's business software division, will replace Olli-Pekka Kallasvuo as chief executive. The New York Times now reports that Ansii Vanjoki, Nokia's executive vice president and general manager for mobile solutions, will depart in six months. Jorma Ollila, chairman of Nokia's board, may also step down in 2012.
Speed is not Nokia's only weakness — lackluster flagship smartphones and a completely uninterested U.S. market can't be ignored — but it's arguably the biggest. While Apple, Google and Research in Motion evolve their existing platforms at breakneck pace, Nokia is stuck at the starting gate with its own mobile operating systems, Symbian 3 and Meego.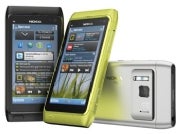 Nokia's N8, the first Symbian 3 smartphone, finally got an official release date last week. It will arrive in Nokia's online store during the final week of September, and in U.K. retail stores on October 1. But it's been so long since Nokia introduced the N8 — the official announcement came in April — that the phone will already seem stale on arrival. Even in June, reviewers noted that Symbian 3 felt out of date.
Then there's Meego, the more exciting of Nokia's operating system endeavors. The joint project of Intel and Nokia was announced in February, and promises to be an adaptable OS for smartphones, tablets, and netbooks. We're now in the second half of 2010, when the first Meego devices were supposed to appear, and no product announcements are in sight. A major Meego milestone is supposedly going to happen by year-end, according to The Nokia Blog, but it's not clear whether we'll see an actual Meego device in 2010.
The smartphone market is moving too fast for Nokia's pace. By the end of this year, even more threats will emerge in the form of Windows Phone 7 and WebOS 2.0. Meanwhile, Android 3.0 handsets are rumored to arrive this holiday season, not long after the continuing rollout of Froyo to existing Android phones.
At this point, Meego and Symbian 3 need to be flawless to keep pace with their competitors. But first and foremost, they need to ship.