Like many people, I have more music and videos than can possibly fit on my iPhone. What am I supposed to do? Delete all my episodes of "Firefly" to make room for "Flight of the Conchords"? Am I supposed to not listen to Brendan Benson because he can't fit alongside my Green Day library?
ZumoCast to the rescue! This free service turns your PC into a kind of media server, able to stream music, video, and even files to any other PC–or even your iPhone, iPod Touch, or iPad. (Android support is coming soon.) And it more or less eliminates the problem of limited local storage space.
After installing the ZumoCast client on your PC (it's available for Macs as well) and creating an account, just choose the items you want to make available: documents, photos, music, and/or video. By default the software pulls from your eponymous Windows folders, but you can just as easily add any other folders you want.
And that's it! As long as you leave that PC running, you'll be able to access that media elsewhere. Suppose, for example, your workplace won't allow you to store music on your office PC. No problem: Just sign into your ZumoCast account in your Web browser, click the Music tab, then queue up the songs you want to hear.
Likewise, with the free ZumoCast apps for iPhone/iPod Touch and iPad, you can tap your libraries on the go. If this sounds familiar, you may be thinking of the Simplify Media app I wrote about last year. However, that was limited to music, and it's no longer available, having been acquired (and discontinued, at least temporarily) by Google earlier this year. ZumoCast is a very worthy successor.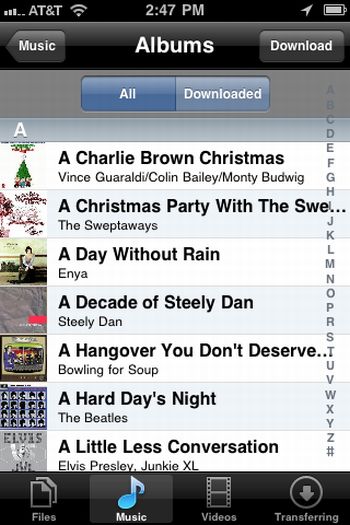 I particularly like the app's Download option, which transfers selected files to your device. That's awesome if, say, you're about to board an airplane, and want to watch or listen to something even when there's no connectivity.
ZumoCast is perfect for storage-strapped devices, or simply for a PC that doesn't have all the media housed on your other PC. This is without question one of my favorite freebies of the year. You can see ZumoCast in action in this YouTube video.