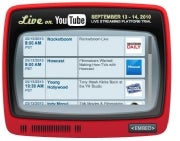 YouTube's foray into live streaming broadcasts over the Web continues Monday and Tuesday, with the first test of a streaming platform for third party video content providers. While YouTube has previously dabbled in live streams, such as a U2 concert and an interview with President Barack Obama, its new platform will ultimately allow any video content partner from around the world to broadcast live on the Web via YouTube.
Here are four things YouTube needs to concentrate on while it rolls-out its live streaming platform if it wants to succeed:
Big-league Content
YouTube isn't the first entrant in the live Web video game. Smaller competitors include Ustream and Justin.tv. These sites offer a mix of content and the technical tools for anyone with a Webcam and an Internet connection to broadcast live. But what both sites don't offer is a deep library of big-league content with mainstream appeal.
Google has the deep pockets and industry clout to deliver more mainstream content. The type of programming I'm thinking about is major sporting events, breaking news, and live entertainment. If YouTube wants to succeed it will have to offer "must see" video content.
I doubt we'll see much television content from major broadcasters, who are already skittish about putting their recorded TV shows on the Web, but YouTube needs try for as much professional live video as possible. Some of it might even be worth paying for.
Interactivity
The one distinct advantage live Web video holds over television broadcasts is the ability to connect online viewers with people who are on camera. YouTube is testing a "Live Comments" module that lets users talk amongst themselves and to the broadcaster, but I'd like to see YouTube take this interactivity a step further. Sporting events should include viewer polls and links to supplemental information on the game such as player stats and fantasy sport league standings. Celebrity interviews should not only field random viewer questions, but prompt viewers to ask certain kinds of questions. This would turns the event into more of a two-way dialog allowing viewers to actively shape the broadcast.
Viewer interactivity is vital to distinguish live broadcasts from archived content. If YouTube fails to make its broadcasts interactive, then video will be better-watched later, on demand.
Awareness
If YouTube's test of live streaming goes as planned, and live video proliferates, the need to inform people of what's "on" becomes paramount. YouTube, coupled with Google's Web reach, could make raising awareness a snap. But YouTube needs to be careful about how noisy it is willing to be about alerting people, after all there's a fine line between effective and obnoxious advertising.
Reliability
I've been watching Young Hollywood's interview of Tony Hawk, but the signal cut out just as Hawk was answering reader questions. YouTube deserves some slack during the testing phase of live streaming, but this won't fly in primetime. At the very least, viewers should have a way to skip back to see what they missed, DVR-style.