Managing complex projects without the right tool is a recipe for potential problems. It's easy to lose track of meetings, key milestones and actions, group members, and other crucial parts of the puzzle. Swiftlight ($299, 30-day free trial) helps by keeping track of all that and more.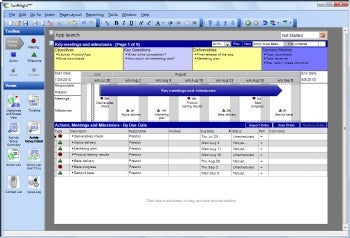 Creating and tracking a project is exceptionally easy, because the interface is simple and clean. To create a meeting, for example, simply drag a meeting icon to a meeting list. The same holds true for creating milestones and other tasks. Swiftlight offers multiple views, so that you can, for example, see a timeline of the project, or instead switch to an action list, details of group activities, and so on.
Swiftlight's strength is in this simplicity. You don't need to be an experienced project manager to use it, and you won't spend a good portion of your life learning its intricacies or updating it.
However, there's also a potential problem with its simplicity as well: it doesn't include some of the useful features in a powerful project management tool such as Microsoft Project. For example, you can't create dependencies, which is vital in a complex project involving multiple teams and steps. (A dependency is a task that depends on the completion or work of another–for example, you can't start product testing until you've first created a product.)
If you have large, exceedingly complex projects, you'd be better off with a program such as Microsoft Project. But if you don't need powerful tools, then you'll find Swiftlight well worth a try. It's much easier to use than Microsoft Project, and at at $299, it's much less expensive than Microsoft Project, which has a suggested retail price of $599.
Vendor Torridon Solutions is working on links between Swiftlight and Microsoft Project, which would allow experienced project managers to use the two programs in concert with one another. In that way, they can use the simpler Swiftlight for high-level planning, and Microsoft Project for more detailed nitty-gritty.
Note: When installing the software, you'll have to fill in the Organization field, or it won't let you proceed.