There's a rugged new Android phone in town, and it's called Defy. It's from Motorola, which crows that its latest handset is plenty tough. Defy is making its public debut on the 25th season premiere of "The Oprah Winfrey Show."
Wait a minute…Oprah? How tough is that? Will Defy sit down with the Queen of Daytime Talk for a heart-to-heart, and suddenly break down into tears upon revealing some disagreeable childhood trauma?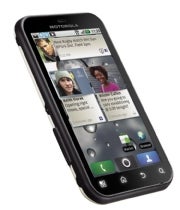 Sensitive moments aside, Defy does look durable. It appears to be cocooned in a rugged protective shell, a design that insulates it from the rigors of daily life.
"Motorola DEFY is scratch and water resistant as well as dust proof, protecting you from life's little challenges such as a sudden rain shower to a drop in the sand," reads a company statement.
Drop in the sand, eh? How about a drop on the pavement? That's a nasty trauma my cell phones have faced time and time (and time) again. A rugged phone should survive a poolside plunge too, not just a sudden shower.
Defy runs on T-Mobile's network–an interesting choice. If customer attentiveness makes a wireless carrier "tough," well, T-Mobile qualifies. After all, the company recently topped a J.D. Power and Associates customer service survey. But if we're talking coverage and signal strength, perhaps Sprint or Verizon Wireless would've been the better (more rugged?) choice.
Defy's features are respectable for a new smartphone: a 5-megapixel camera with flash and digital zoom; a 3.7-inch WVGA (854-by-480) touchscreen; and a Web browser with Adobe Flash Lite. Motorola hasn't specified which version of Android is included, but based on the specs (i.e., no Flash Player 10.1), Android 2.1, not the newer 2.2 (Froyo), is likely.
Motorola hasn't announced pricing for Defy, which will arrive "in time for the holidays." But will it survive a plunge in the eggnog?
Contact Jeff Bertolucci via Twitter (@jbertolucci) or at jbertolucci.blogspot.com.