Keeping track of your work shouldn't be a job in itself, but sometimes it feels that way. Epiforge Software offers a free app that can help: The Grindstone task tracker lets you create and manage to-do lists and offers a few nifty ways that help you time how long you spend working on specific tasks. Unfortunately, though, Grindstone suffers from a bland user interface that makes using it sometimes feel a bit too much like work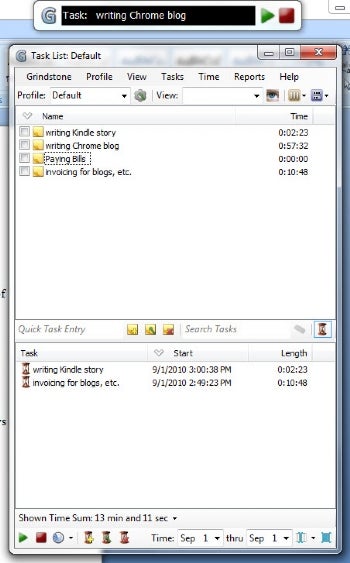 Grindstone launches in a small window that settles itself on the right side of your Windows desktop. (You can move it around and resize it, if you'd prefer.) Here, you can create a to-do list by entering tasks, which you can customize by creating a deadline and an estimated time allowance, as well as any notes pertaining to the task. If you're a business user who charges for your time, you also can enter your rate.
Once a task has been created, you can use Grindstone's built-in stopwatch to track all of the time you spend on it. You just select the task from your to-do list, and click the small green arrow that appears at the bottom of the Grindstone window. A small bar will appear at the top of your screen, tallying up the time you spend on the task. You can use this stopwatch bar to stop timing when you've completed your task, and you also can use it to toggle between the different tasks you've created. Once you've timed yourself working on a certain task, the time is added to that task's entry in your to-do list.
Grindstone also offers an egg timer approach, which lets you set a time limit for a certain task. If you want to allot 20 minutes for checking e-mail, for example, you can start the egg timer and delve into your inbox. When your 20 minutes are up, the egg timer will alert you that it's time to move on. The egg timer is incredibly simple, yet incredibly efficient, especially for professionals looking to move quickly through a to-do list.
If your computer goes idle while you're using Grindstone, the app will track how long you've been away and ask you about that time when you return. You can have the time added to a certain task, or you can tell Grindstone to ignore your absence. The language here is cute: Grindstone asks you how you spent your time away from the computer, and one of your reply options is "Nothing you should be concerned about, Grindstone."
This sense of whimsy is missing from the rest of the app, however–and that's a shame, as Grindstone's interface could benefit from this kind of light-hearted touch. With its mostly white and gray design, Grindstone is visually uninteresting, and not always intuitive. Once you delve into the app, its power becomes apparent, as does it ability to help you manage your time, but with its bland design, Grindstone can feel about as appealing as work.