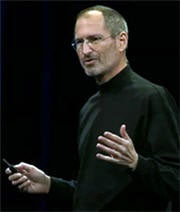 I don't know if you've heard, but Steve Jobs is a star-throwing Ninja master.
Sound ridiculous? It is. But that was the story gripping the Web for most of the morning this fine Tuesday.
The whole thing seems to have started with a report by SPA!, a tabloid-style publication based in Japan. According to Bloomberg, which picked up on the report, Jobs was stopped by security officials at Kansai International Airport while on his way home from a family vacation. Jobs, the story says, had "Ninja throwing stars" in his carry-on luggage and was planning to take them aboard his private plane.
"Jobs said it wouldn't make sense for a person to try to hijack his own plane," Bloomberg explains, citing the SPA! report for its information. "He then told officials he would never visit Japan again."
So what in the world was going on? Has our perpetually turtlenecked CEO officially gone bonkers? Or was he bringing back top-secret protocols for a magical and revolutionary new Apple product called iKill? (That's my personal theory.)
Unfortunately, it looks like the Jobs-Ninja incident is far less sensational. Apple has gone on the record as saying the wild tale is wildly false: Stevie J did visit Japan for a vacation, a spokesperson says, but never got into any throwing-star scrapes with anyone from airport security. The entire account is "pure fiction," the A-team insists.
Now, here's the kicker: This isn't the first time The Magical One has been the subject of a misleading news report — and it isn't the first time Bloomberg has been responsible for propagating the pretense, either. Back in August of '08, Bloomberg News prematurely published an obit for Jobs. The 17-page story (captured and permanently archived by Gawker) was apparently activated on accident by a reporter who was updating the ready-just-in-case copy.
A couple of months later, a user-submitted story on CNN's iReport site sparked a rumor that Jobs had suffered a heart attack and been rushed to the ER. The report led to rampant speculation and even caused Apple's stock to plummet. In the end, it turned out a teenager had made the whole thing up (according, amusingly enough, to Bloomberg).
While the details are still slim, it looks like today's throwing-star story is likely no less of a hoax. It's a damn shame, too — the possibility of a Jobs-led Ninja attack would have made Apple's next special event way more exhilarating.
JR Raphael is a PCWorld contributing editor and the co-founder of geek-humor site eSarcasm. You can find him on both Facebook and Twitter.