Do you use a lot of mobile apps on your cellphone? If you do, chances are you're a young, affluent, well-educated male, according to the Pew Research Center's Internet & American Life Project. The PIALP recently conducted a study of 1,917 adult cellphone users to find out who is using apps and what they're doing with them. The study did not distinguish between feature phone and smartphone users.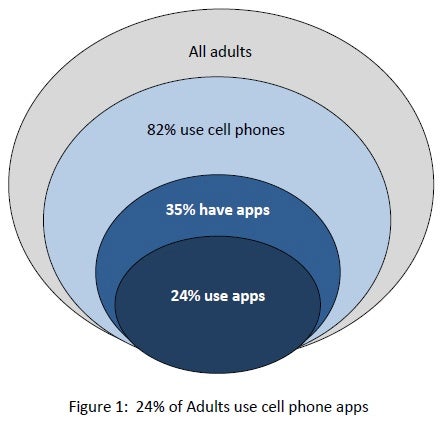 The PIALP says 82 percent of U.S. adults own cellphones, but only 35 percent of those people have apps on their phone. Even fewer, 24 percent, actually use the apps they have, and 11 percent aren't even sure whether their phones have apps in the first place. The study defines U.S. adults as anyone 18 years of age or older.
Bad News for Developers
The PIALP has some bad news for third-party developers: only 13 percent of adult cellphone users have paid money to download an app. On the plus side, however, 29 percent of cellphone owners have downloaded apps, according to the study.
Earlier this year, Apple said it had paid out $1 billion to developers from app sales since launching the App Store in 2008. Despite that big paycheck, however, the PIALP's findings suggest not many people are paying for apps, at least in the United States.
That's an interesting finding, considering there's a debate right now about how developers should make money from their apps. Some argue the most effective strategy is to offer free or low-priced apps, and then earn money through in-app purchases. TapTap Revenge ($0.99), for example, made more money during January 2010 than Electronic Arts' FIFA 10 ($6.99) combining a low-priced app and in-app purchases, according to apps store analytics firm Distimo.
Apps lovers
They may not like paying for apps, they may not even be sure if they have apps, but on average each American adult has 18 apps on their phone, according to PIALP. But that's just the average. The PIALP says the median number of apps on an adult's phone is 10. That means there is a group of people using 10 apps or less, and a big group of people using more than 10. In my experience, that sounds about right. I have more than 80 apps on my iPhone (not including Apple's stock apps), while others in my household have about five or six.
What's an app?
If you're an iPhone or Android user you might be wondering what else you use a phone for if not for apps? Well, here's where it gets a little tricky. You see, the PIALP defined apps as any piece of software that extends "the phone's capabilities enabling users to perform particular tasks." That may explain why the PIALP says only 29 percent of adult cellphone users use an app, while more popular tasks include snapping a photo, sending an SMS, surfing the Web, playing a game, checking e-mail, recording a video or sending an instant message. All of those tasks sound like something you would need to do through an app on a mobile device, but for whatever reason the PIALP disagrees.
In addition to the PIALP's phone survey, the study incorporated data from the Nielsen Company's App Playbook Survey conducted in December 2009.
Connect with Ian on Twitter (@ianpaul).