Apple's iPad has been the subject of a bevy of complaints since its launch earlier this year. But Apple is preparing a solution to one of the loudest, most resounding complaints about its magical tablet: the iPad's inability to print directly. Apple announced that it is releasing a beta version of AirPrint, a wireless printing feature, to members of its iOS developer program today, and that the technology will be included in the next major iOS update, 4.2, which will be released to users in November.
AirPrint is designed to automatically find printers, and "can print text, photos, and graphics to them wirelessly over Wi-Fi without the need to install drivers or download software," Apple said in a statement today.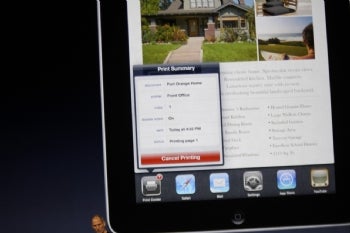 Sound pretty cool, right? Perhaps — if you have the right printer. Apple's announcement notes that, "HP's existing and upcoming ePrint enabled printers will be the first to support printing direct from iOS devices." After digging around on HP's site, I could find just one ePrint enabled printer: the $100 HP Photosmart e-All-in-One – D110a.
If you own that one particular printer and an iOS device, you are in luck — or will be, when iOS 4.2 is launched in November. Apple does say that more ePrint-enabled devices are coming this fall, including "HP Photosmart, Officejet, Officejet Pro and LaserJet Pro series" devices. Again, that's great — if you're in the market for a new printer.
What about everyone else? You know, all of us who already own a perfectly good printer, albeit one without that handy ePrint technology. Is there any hope for us? Maybe. Just maybe.
Apple's Solution
In a statement announcing the release of the AirPrint beta to developers, Philip Schiller, Apple's senior vice president of Worldwide Product Marketing says, "iPad, iPhone, and iPod touch users can simply tap to print their documents or photos wirelessly to an HP ePrint printer or to a printer shared on a Mac or PC."
That means you don't necessarily have to have an ePrint-enabled printer; if you have access to a networked printer and a Mac or a PC, you should be able to use AirPrint. I'm going to go out on a limb and assume that if you already own an iOS device and a printer, chances are pretty good that you own a Mac or Windows computer, too.
An Apple spokesperson tells me that there is "no difference between the way AirPrint would work on a printer that supports Apple's new AirPrint printing architecture (like ePrint printers from HP) or one that is connected to a Mac or a PC."
Third-Party Alternatives
If you're not convinced that AirPrint will work for you — or if you simply can't wait until November to start printing — you're not without options. Plenty of third-party apps are available that can help. The folks over at MacWorld reviewed PrinterShare, ePrint, and DocPrinter; each app has its pros and cons, so read the full review for more details.
Additional third-party solutions include Air Sharing Pro and PrintCentral for iPad.
And, if you're willing to take something of a risk with your iPad, one of our bloggers has come across a printing fix for the iPad. Beware, though — it is, as he notes, "seriously high-tech stuff."