I haven't used the Google Toolbar in a few years, but there's one thing I really miss about it: autofill. With just one click it would automatically fill out a Web form with my name, address, phone number, e-mail address, and/or other information.
See, I do a fair amount of online shopping, and I also sign up for lots of online forums. It's a hassle having to complete all those registration fields by hand each and every time.
Enter Autofill Forms, a Firefox add-on that accomplishes much the same thing as Google Toolbar–and then some.
After installation, venture into your Firefox add-ons, find Autofill Forms, and then click Options. Now complete as many of the personal-info fields as you want.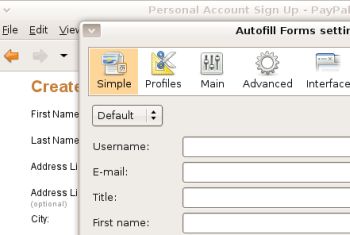 The next time you encounter an online form, click the Autofill Forms button (which gets added to your toolbar) or use its keyboard shortcut. Presto! The tool completes the form for you, popping up only when there's a question or unknown field.
As an added bonus, Autofill Forms lets you set up profiles, which is great if you want to use different sets of information for different sites.
If you're not a Firefox user (or even if you are), check out RoboForm, which not only provides similar autofill features, but also manages your passwords. However, the free version is somewhat limited; you'll have to pay $20 if you want RoboForm Pro.
Personally, I'm satisfied with Autofill Forms. It's a bit complex for an add-on, especially when you delve into some of the more advanced features, but it gets the job done.