Knifeblade asked the Answer Line forum why his PC won't go into Standby Mode. My answer covers sleep and hibernation, as well.
Putting a Windows XP PC into standby mode when you take a break shuts down some of your PC's operations, saving electricity. The sleep mode in Vista and Windows 7 behaves similarly, but more efficiently. Hibernation, in all three versions, saves even more power, although getting into and out of hibernation takes longer.
There's probably an infinite number of conflicts that can interfere with these features doing their job. I can't guarantee that the suggestions below will help you identify your particular problem, but there's a good chance that they will.
First, make sure your computer supports the Advanced Configuration and Power Interface (ACPI). Start by brinking up the Device Manager: Click Start (Start, then run in XP), type devmgmt.msc, and press ENTER. Double-click the word Computer to expand the section under it.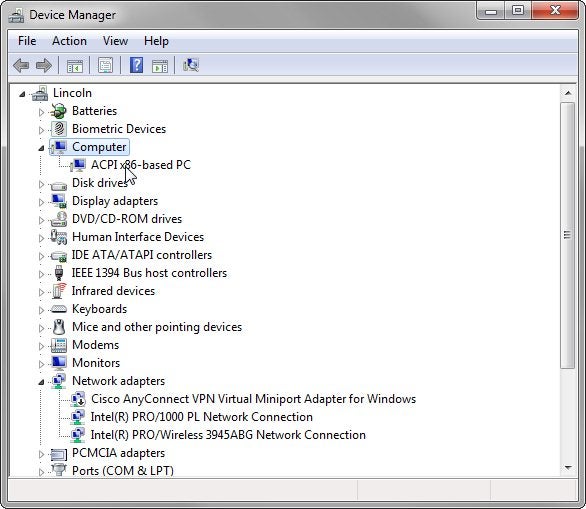 You should see something with the acronym ACPI in its name. If you don't, your computer doesn't support these power-saving features. Sorry.
Now that you know your hardware can handle power management, you have to find out if it's configured to do so. The next instructions vary with your version of Windows:
XP: Click Start, then Run, type powercfg.cpl, and press ENTER. In the resulting dialog box, click the Hibernate tab, and if Enable Hibernation isn't checked, check it. Then click the Advanced tab. In the Power buttons box, check if the two pull-down menus have Hibernate and Standby options.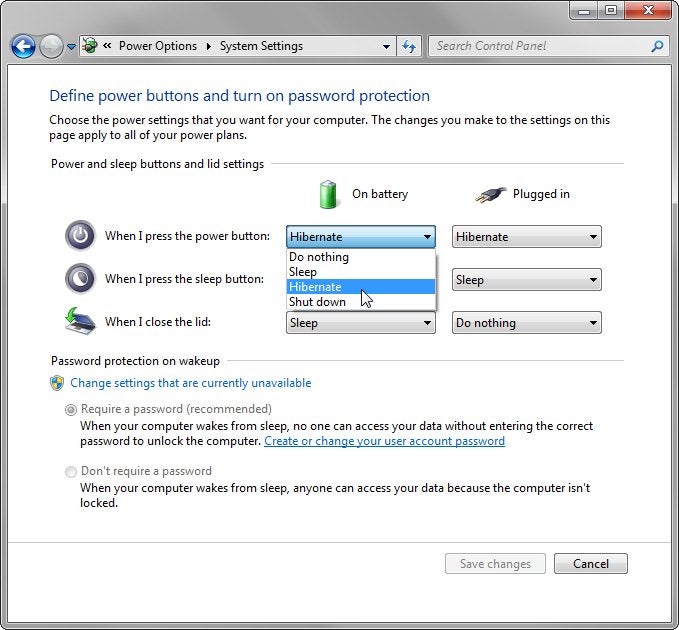 Vista and Windows 7: Click Start, type powercfg.cpl, and press ENTER. Click Choose what the power buttons do in the left pane. Make sure the two pull-down menus have Hibernate and Sleep options.
If you don't find these options in the menus, they're probably turned off in the BIOS settings. I can't tell you how to access these settings on your particular computer, but if you watch the screen very carefully when you boot, one of the first things you'll see will be a message like "Press F2 for setup." That should give you a clue. Once you're in the setup program, look for "Power" options.
If your PC supports ACPI, and the appropriate options are turned on in the BIOS, try updating some of your drivers. Graphics drivers have a reputation for troublemaking, so check them first. After that, audio is the next likely culprit.
There are multiple programs and services available that can scan your PC and recommend updates for your various drivers. Unfortunately, I've yet to find one that I can recommend. (If you can recommend one, well, that's what the comments section below is for.)
To upgrade drivers manually, bring up the Device Manager as described above. Locate and double-click the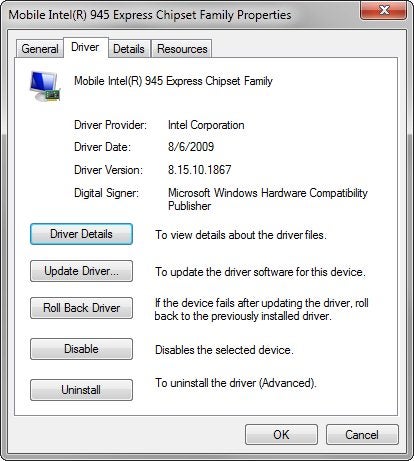 device you want to update (your graphics adapter will be under Display adapters). Click the Driver tab. You can click the Update Driver button if you like, but I've never seen this work. But do make a note of the driver's version number and date.
Now visit the manufacturer's web site and search for driver downloads for that particular model. Which manufacturer? If you're looking to upgrade integrated graphics or audio, it's the company that made your PC. Otherwise, check the card's manufacturer's site.
If you find an update, download it, and read the instructions in the readme file.
Read the original forum discussion.
Add your comments to this article below. If you have other tech questions, email them to me at answer@pcworld.com, or post them to a community of helpful folks on the PCW Answer Line forum.