At a Glance
Expert's Rating
Pros
Thinner and more comfortable than the Livescribe Pulse
Increased storage capacity for same price as the Pulse
Fun and useful way to take notes with audio
Ability to add features via Livescribe app store
New USB port location allows usage as input device
Ability to share notes and audio via pencast
Password protection for sensitive audio files
Cons
No bundled writing-to-text transcription app
Still a bit bulky
Requires special paper to work
Our Verdict
The latest addition to the Livescribe smartpen family is sleeker, better-looking, and has more memory than its predecessor. New tricks include password protection, an app store, and the ability to function as a USB-connected input device.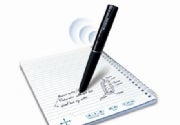 The first-generation Livescribe Pulse smartpen attracted a cult following among students and heavy note-takers, thanks to its innovative approach to digitizing, organizing, and tying audio to handwritten notes. Those early-adopter students, journalists, and stenographers can rejoice: Livescribe's second-generation smartpen, dubbed the Echo, has arrived. The new Echo pen packs more memory (4GB for $170 or 8GB for $200) and a sleeker, more-ergonomic design than its predecessor, the Pulse. It also adds a few new features to the mix.
What Is a Smartpen, Exactly?
The coolest thing about the Echo (and the Pulse before it) is its ability to record and play back audio–with an innovative twist. Instead of requiring you to cycle through your recorded audio to find the clip you want, the Echo ties audio to your written notes. By tapping a Record button on a printed page, you start recording a lecture or other spoken words as you write. While you're scribbling your notes, the pen records audio that's linked to whatever you're writing.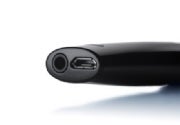 As you read your notes later, you can tap your written words with the pen to hear the audio recorded at the moment you wrote them. Livescribe includes a standard 3.5mm headphone jack on the top of the Echo–as well as an embedded speaker–for listening to your audio clips. The pen is perfect for classes and interviews, especially if you have a hard time deciphering your own written notes or shorthand.
Unfortunately, you can't use just any legal pad or Trapper Keeper. Like the Pulse, the Echo works only on special dot paper. A high-speed infrared camera at the tip of the pen captures your movements on the special paper, which is also the secret for connecting captured audio to written text.
The pen comes packaged with a 50-sheet starter notebook containing perforated, lined dot-paper with various controls printed at the bottom of each sheet. Tapping the printed controls activates various functions of the pen; options include Nav Plus crosshairs, for navigating through the pen's menu and for selecting and using applications; audio controls; playback speed settings; bookmark controls; and record/pause/play buttons.
If you run out of the supplied paper, you can purchase dot-paper notebooks online at the Livescribe store ($20 for a four-pack of traditional-style notebooks, or $25 for a two-pack of hardbound journals), or you can print your own dot paper with a color laser printer that can print at a resolution of at least 600 dots per inch. A number of other items are available at the Livescribe store, including extra ink cartridges ($6 for a 5-pack), pen cases, and other accessories.
You also get 500MB of free storage on the Livescribe Online service as part of the package. For archiving your notes, the Livescribe system includes Livescribe Desktop 2.1.1 for Windows or 2.1.2 for Mac OS. This downloadable desktop software (available via the Livescribe site) enables you to digitize, organize, and share your handwritten notes via Livescribe Online once you've connected the pen to a Windows or Mac computer.
One of the cooler features of the Livescribe Online service is its support for "pencasts"–animated videos of your written notes that you can create and share, accompanied by an audio track of your voice. School teachers have adopted Pencasts in the past few years as a way to provide at-home instruction and review for students.
The Echo can password-protect your audio files, to help keep them private. If you choose to password-protect your pen, the OLED screen prompts you to enter a password when you prepare to play back an audio track. To bypass the log-in prompt, simply write your four-digit password on any page of the dot-pattern paper; you can write the individual numbers of your four-digit password on separate pages to prevent lurkers from stealing your secret code.
The Echo's big drawback is that it doesn't come with bundled handwriting-to-text transcription software–though you can buy MyScript, transcription software especially for Livescribe, for about $38. It's also a bit odd that Livescribe Desktop lacks writing-to-text functionality, given that the software provides a very accurate search feature for words included in your digitized notes. (For top-notch writing-to-text capabilities, we recommend Adapx's Capturx digital pen.)
Hardware and Design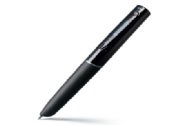 The pen itself is about the same length as a regular pen (6.22 inches), but considerably thicker: 0.78 inch at the top and 0.45 inch at the tip–slightly thinner than a typical dry-erase-board marker. Still, it's slimmer than the Pulse and more comfortable to use, and a new rubberized grip improves its ergonomics.
Another important change in the Echo is the positioning of its Micro USB connector on the top of the pen instead of in the middle of its grip zone. That design revision makes the Echo usable as an input device; and before the end of 2010, Livescribe will release new software to allow users to wield the Echo as a mouse or digital stylus while it's connected to a computer.
Like the Pulse, the Echo has a 96-pixel-by-18-pixel OLED display on its side, where you can see the pen's current mode, its menu features, and the current time. Though the display is small (it's on a pen, after all), it's sharp and readable enough to serve its purpose well. You can adjust the screen's brightness and flip the display's orientation to accommodate left-handed or right-handed users.
The Echo comes in two storage capacities, with 4GB or 8GB of fixed internal memory–quantities that translate into 400 hours and 800 hours, respectively, of recording time. The pen has a power button on the side, and a Micro USB port and headphone jack on the top; everything else is done by tapping and writing with the pen.
Applications and Other Features
At the Livescribe store you can find applications for your smartpen. The Echo comes bundled with two apps–a piano app and a trial translator app–and you can purchase and download a number of others at the Livescribe store.
Apps are a bit tricky to install on the pen (it takes a couple of steps to download them from the store and then transfer them to the pen), but the procedure works fairly well. I tried a spelling app featuring a robotic in-pen voice that asks the user to spell words correctly. It recognized about 80 percent of the words that I was writing correctly, and it's a stickler for clean penmanship. I also installed a U.S. Presidents app–a flashcard-like database of all 44 American heads of state, stored on the pen itself (there's no writing involved).
Once an app is installed on the pen, you can launch it by drawing a horizontal line on your dot-paper, writing the name of the app you want to launch on the line, and then tapping the word with the pen. This new feature, which Livescribe calls Launch Line, activates apps much more quickly than you can by using the tiny OLED screen and Nav Plus controls to scroll through the list of installed apps.
Buying Advice
Livescribe's latest is a good addition to its smartpen family: The Echo is thinner and more comfortable than its predecessor, and it will certainly appeal to students who have a penchant for falling asleep in lecture. It's one of those rare products that you'll need to try out in order to believe–and once you do, you just might get hooked.