Well, well — it looks like Apple isn't the only phone-maker saying no-no to the naughty-naughty.
Microsoft released the final version of its Windows Phone Developer Tools on Thursday, giving developers the green light to start working on apps for the new Windows Phone Marketplace. The Marketplace will launch in October, Microsoft says — the same month the first Windows Phone 7 devices are expected to debut.
Along with providing the technical tools, Microsoft's Windows Phone 7 reps are reminding developers to read over the rules and regulations surrounding app approval. The company expects to take about five days to process app submissions. And, like their Cupertino counterparts, the men and women of Microsoft appear ready to reject any submissions that seem too risqué — or that remind users about the existence of other platforms.
Some of the more interesting restrictions from Microsoft's Windows Phone Marketplace guidelines:
• "Not allowed: sex/nudity — images that are sexually suggestive or provocative."
The document goes on to name a lot of specific stuff, including things that rhyme with "ripples" and "cubic dare."
• "Not allowed: content that a reasonable person would consider to be adult or borderline adult content."
Personally, I'd consider that list of sexually suggestive items to be borderline adult content — but I'm admittedly not a reasonable person.
• "Not allowed: content that generally falls under the category of pornography."
We all know where you can go for that, right?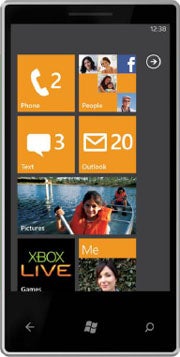 • "Not allowed: realistic or gratuitous violence, including depictions of … decapitation, impaling, blood splatter/blood spurting/blood pooling, or … guns/weapons pointed toward user/audience."
Unless it's in a totally rad and uber-popular game. Then it's probably OK.
• "If your application allows users to purchase music content, it must include the Windows Phone music Marketplace (if available) as a purchase option. If the application also allows music content to be purchased from any source other than the Windows Phone music Marketplace, the application must include its own playback functionality for that music content."
Whoever wrote this had to have gotten an "unsatisfactory" mark for sharing back in kindergarten.
• "Not allowed: any content that facilitates or promotes content prohibited by these guidelines."
Also not allowed: Any content that facilitates content that promotes content prohibited by the content in the table of contents.
• "If an application depicts any mobile or wired telephone, handheld PDA, or any other data and voice communicator, it must be either generic or a Windows Phone device."
Show an iPhone, and they'll send the world's oldest living Microsoft fanboy to teach you a lesson. Show a Kin, and they'll never speak to you again.
JR Raphael is a PCWorld contributing editor and the co-founder of geek-humor site eSarcasm. You can find him on both Facebook and Twitter.