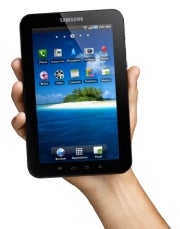 Samsung Mobile's iPad competitor, the Galaxy Tab, will be available through all four major U.S. wireless carriers.
The product will be sold by Verizon Wireless, AT&T, Sprint and T-Mobile, Samsung said Thursday in a statement.
The Galaxy Tab is smaller than Apple's iPad, but is designed for many of the same uses — surfing the Web, watching movies, or reading e-books. Like Samsung's Galaxy S smart phone, the Galaxy Tab is based on Google's Android operating system.
It is expected to ship before the year-end Christmas shopping season. In its press release, Samsung said the product will be "coming soon." Pricing has not yet been released.
The Galaxy Tab could fit in a large pocket. It is half an inch (12 millimeters) thick, and with a seven-inch screen, and weighs about 13 ounces — compared to the iPad's heftier 1.5 lbs. Reviewers say that unlike the iPad,the Galaxy Tab can be operated with a single hand.
Users can download movies using Samsung's Media Hub service. It has two cameras — a 3 megapixel device on the back for taking photographs, and a 1.3 megapixel camera on the front for Web chats.
Robert McMillan covers computer security and general technology breaking news for The IDG News Service. Follow Robert on Twitter at @bobmcmillan. Robert's e-mail address is robert_mcmillan@idg.com