Apple's iPad may be the most popular tablet device today, but Samsung hopes to change that when the Android-based Galaxy Tab launches in the U.S. later this fall. There's no official launch date yet for the Wi-Fi/3G Galaxy Tab, but the tablet will be available from all four U.S. major carriers in the coming months. The iPad, by comparison, is only compatible with AT&T's network.
Samsung offered a lot of new information about the Galaxy Tab, but also held back some crucial details. Here's what we know so far.
(See related: Get up close and personal with Samsung's Galaxy Tab and read our hands-on review)
What are the Galaxy Tab Specs?
Samsung's tablet computer features a touch-based 7-inch enhanced TFT, WVGA display. Screen resolution is 1024-by-600 pixels with 1080p high-definition video playback capability. The Galaxy Tab has a 1.3 megapixel front-facing camera for video chat over Wi-Fi only using services such as Qik and Fring. The tablet also has a 3MP rear-facing camera with LED flash and 720p video capture.
For storage, you get 2GB onboard and a pre-installed 16GB microSD card. If 16GB is not enough for you, the microSD card slot supports up to 32GB. The Galaxy Tab runs Android OS 2.2 (froyo) including Adobe Flash Player support, weighs 13 ounces and has Samsung's 1.0 GHz Hummingbird processor under the hood.
2GB onboard storage? Wasn't the Galaxy Tab supposed to come in 16GB and 32GB models?
That's what Samsung announced originally, but at least in North America the bulk of the Galaxy Tab's storage will be through microSD cards up to 32GB in size. That means the maximum storage on the device will be 34GB.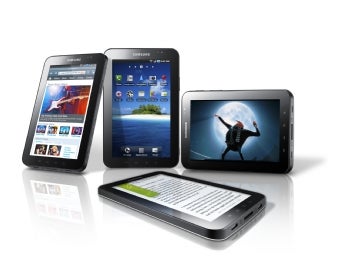 Will there be a Wi-Fi only option?
Samsung said a Wi-Fi only model of the Galaxy Tab would be coming "in the near future." At launch, however, only the Wi-Fi/3G option will be available. If you're looking to avoid a monthly carrier bill, you'll probably have to wait a bit longer than those willing to shell out for the 3G version of the Galaxy Tab.
How much does the Galaxy Tab cost?
Samsung and its carrier partners have not announced pricing for the device. Some analysts believe the price for a Galaxy Tab could be somewhere around $700 without a carrier subsidy.
When will it go on sale?
Samsung has not announced an official launch date only that the Galaxy Tab will be available this fall.
Where can I buy it?
Samsung didn't specify any retail partners. It stands to reason you will be able to buy the Galaxy Tab through each of the four carriers' retail outlets. No announcements have been made about availability at national chains such as Best Buy and Radio Shack.
What are my carrier options?
Samsung is launching the Galaxy Tab on all four major carriers in the U.S. including AT&T, Sprint, T-Mobile and Verizon.
How much are the data plans?
No data plan pricing has been announced.
Where can I buy apps for the device?
The Galaxy Tab will have access to the Android Market as well as Samsung's Media Hub.
What's the Media Hub?
The Media Hub is Samsung's online entertainment store that will offer movie and television shows for rental and purchase. You will be able to access new release and older movies, and next-day purchases (no rentals) for new television shows.
At launch, Samsung's Media Hub will not have the same level of content as competing stores such as iTunes and Amazon. Samsung's current content partners include MTV Networks, Paramount Pictures, NBC Universal and Warner Bros. Samsung promised to announce more content partners soon.
All content from the Media Hub is offered as downloads over Wi-Fi. There will be no online streaming through the Samsung Media Hub.
You will be able to share rented or purchased Media Hub content between five Samsung devices under one account. At launch, Samsung Media Hub will work on select Samsung smartphones and the Galaxy Tab. There are future plans to make Media Hub available on Samsung PCs as well.
Samsung would not comment on whether Media Hub would be coming to its Internet-connect HDTVs.
How much will movies and TV shows cost?
Samsung didn't announce pricing for the Media Hub. The company did say their pricing would be competitive with similar stores such as iTunes and Amazon.
Any other featured software for the Galaxy Tab?
Samsung has included two notable software features in the Galaxy Tab: the Social Hub and Daily Briefing. The Social Hub includes social networking integration with services such as Facebook and Twitter. Daily Briefing is basically a news center for your device that includes your news feeds, weather information, stock quotes and your calendar appointments.
Are there any accessories for the Galaxy Tab?
Samsung will offer a keyboard dock for $100 that can charge your device while you type. The keyboard dock also has a stereo audio output jack for connecting to speakers or home sound system.
You can buy a desktop dock for $50 that serves as a stand for watching movies or turning your Galaxy Tab into a digital picture frame. The desktop dock also includes an HDMI out connection to display high-definition content up to 1080p from your Galaxy Tab to your HDTV.
If you want to use the Galaxy Tab for turn-by-turn voice-guided navigation, you can buy a car/GPS dock for $100. The car dock attaches to the dashboard or the inside of your windshield, and displays your device in landscape or portrait mode. Samsung didn't mention whether the car dock will charge your Galaxy Tab as you drive.
Availability details for the Galaxy Tab accessories were not announced.
iPad Killer?
It's not clear yet if the Galaxy Tab has what it takes to beat the iPad, but Samsung is bullish about the prospects for its latest mobile device. "With the Galaxy Tab, Samsung will redefine the tablet market," said Dale Sohn, president of Samsung Telecommunications America, during the Galaxy Tab's launch event in New York Thursday. We'll have to wait until later this fall to know for sure.
Need more Galaxy Tab details? Check out PC World's Hands On With Samsung's Galaxy Tab.
Connect with Ian on Twitter (@ianpaul).