Samsung's Galaxy Tab striptease continued with a media event on Thursday evening, revealing a few more details about the tablet's U.S. launch.
There's a lot to like about the Galaxy Tab, which has become the de facto iPad rival simply by showing up to the fight. But Samsung is also making some questionable decisions that could make the Galaxy Tab worth skipping, for now.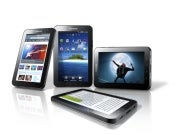 Four Carriers
The big announcement from Samsung's Galaxy Tab event was that all four major U.S. wireless carriers — AT&T, Sprint, T-Mobile and Verizon Wireless — will sell the device. It's a smart play by Samsung that falls in line with the Galaxy S phone's multi-carrier approach. On a related note, voice calling will be unavailable on U.S. Galaxy Tab models, and that's fine. I don't expect a lot of people to use 7-inch tablets as phones anyway, and it's nice to know that the carriers won't be shoving voice plans down customers' throats. VoIP calls will be allowed.
Now for the bad news: Video chat will only work over Wi-Fi. Samsung didn't explain why. Also, none of the models will support 4G connectivity, so no WiMax from Sprint or LTE from Verizon. Finally, I'm worried about Samsung's confirmation that the Galaxy Tab will include some software variations from each carrier. Hopefully, we won't see any more dealbreakers like the Verizon Fascinate's forced use of Bing.
Media Hub
Samsung's other big reveal was Media Hub, its own storefront for movie and TV show rentals and purchases, with MTV, NBC, Universal and Warner as initial partners. Movies will include new releases and library titles, and television shows will be available the day after they air. No word on pricing.
Of course, with video comes device restrictions: You'll be able to watch Media Hub content on up to five devices, but only if they run Samsung's storefront. Got an iPhone and a Galaxy Tab? Too bad, unless Samsung somehow launches an iOS app (unlikely). Samsung couldn't even say whether its televisions and Blu-ray players would support Media Hub, now or in the future. Don't Samsung's different divisions talk to each other?
More Mysteries Await
Samsung suggested that the carrier-supported Galaxy Tabs will be available for the holidays, but dodged questions on pricing. That'll be up to the carriers, Samsung said. Exact release dates were also not given.
Perhaps the best news of all was the announcement of a Wi-Fi Galaxy Tab. Just like the other models, no timeline or pricing were given. The big question is whether this model will be available for the holidays as well. Not everyone wants a wireless carrier commitment for Christmas.