Not only is the Samsung Galaxy Tab one of the first Android tablets, it's among the first to feature two (front and rear) cameras. To most of us, a camera-equipped tablet means one thing: video chat. But the primary benefit of tablet cameras, particularly from a business standpoint, is that they'll bring augmented reality applications to the mainstream.
Augmented reality (AR) may be well known in geek circles, but it's a mystery to the general populace. The term refers to a live view of a real-world environment–the one you and I live in–that's enhanced with computer-generated images. Long a stable of sci-fi novels, movies and TV shows, AR is starting to appear in the tech gadgets we use every day.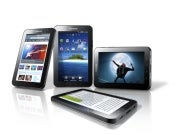 The Galaxy Tab is a prime example. Samsung points out that its camera-equipped tablet allows users to take advantage of augmented reality apps available in the Android Market. Of course, smartphone users can download these apps too, but the larger displays on tablets may help AR reach a wider audience. Graphical overlays are much easier to view and interact with on a tablet-sized screen.
Layar is one AR app that shows promise. Billed as the "world's first augmented reality browser on mobile," Layar displays relevant information over a real-world image. For instance, say you're strolling through a San Francisco district in search of an apartment for rent. You turn on the camera, hold up your tablet (or phone), and pan slowly through the neighborhood.
Using location data gleaned from your mobile device's accelerometer, compass, and GPS, Layar pinpoints available rentals with blue dots; an information bar at the bottom of the screen shows address and price details too. This video shows Layar in action.
Nokia is bullish on augmented reality as well. Its Point & Find interface uses object-recognition technology to help mobile users find services in their area. And Google is likely to be an AR proponent too. Its Google Goggles visual-search Android app recognizes landmarks, artwork, books, products, and other items in the physical world. While Goggles' current skills may be rudimentary, the application shows a lot of potential and could evolve into an AR tool.
For augmented reality to go mainstream, cameras must become standard across all mobile devices–a development that's well underway. AR could get a big boost when Apple' iPad adds front and rear cameras, an upgrade that could arrive within months.
Contact Jeff Bertolucci via Twitter http://twitter.com/jbertolucci ) or at jbertolucci.blogspot.com .