Looking for some nifty artwork to spruce up an invitation, newsletter, Web page, or the like? Or maybe you're just a "wordie" (someone who likes to have fun with words, much as a "foodie" likes to eat). Either way, head to Wordle, a cool site that builds stylish, colorful "word clouds" from the words you supply.
Here's an example: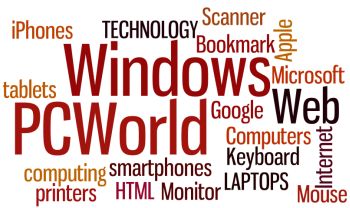 Neat, huh? To use this cool tool, you simply type in a bunch of words. If you want certain words to appear larger than others, repeat them multiple times. You can also paste in the Web address of any Web site that has an Atom or RSS feed.
After Wordle generates your word cloud, you can make changes to the font, layout, and/or color scheme. There's also the Randomize button, which uses different combinations of the three to create new designs.
Wordle is tons of fun to play around with, but keep in mind there's no way to save your finished cloud (except to Wordle's public gallery). If you want to use it for a project or something, you'll have to take a screenshot. You can also print a copy to hang on your fridge. (At least, that's what my daughter's doing.)