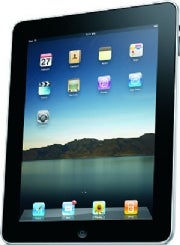 One thing's for certain: Best Buy CEO Brian J. Dunn really, really loves the iPad. A few days ago he called Apple's tablet device a "magnificent shining light" that will be a favorite among shoppers this holiday season. And in a Sept. 14 article in the Wall Street Journal, Dunn remarked that the popular iPad has cut into sales of laptop PCs, particularly netbooks, by as much as 50 percent.
Although Dunn's laptop comment was buried deep in the WSJ piece, it created a mini-firestorm among tech bloggers, some of whom opined that the iPad was stealing away potential laptop buyers because did nearly everything that consumers could ask of a mobile computer. Indeed, if you're consuming digital content and not creating it, the iPad works very well.
Sensing the need for damage control–and perhaps feeling the heat from Best Buy's laptop-manufacturing business partners–Dunn on Friday released a statement that attempted to smooth things over:
"'The reports of the demise of these devices are grossly exaggerated,'" Dunn said. "'While they were fueled in part by a comment in the Wall Street Journal that was attributed to me, they are not an accurate depiction of what we're currently seeing. In fact, we see some shifts in consumption patterns, with tablet sales being an incremental opportunity. And as we said during our recent earnings call, we believe computers will remain a very popular gift this holiday because of the very distinct and desirable benefits they offer consumers. That's why we intend to carry a broad selection of computing products and accessories to address the demand we anticipate this season.'"
Note that Dunn's carefully-worded statement doesn't actually retract his Journal jaw-dropper–that the iPad is cannibalizing laptop sales by as much as 50 percent. It simply says that, well, laptops aren't dying, and that consumption patterns are shifting. OK, whatever. Perhaps the takeaway here is that many tech consumers, most likely casual users, feel the iPad meets their computing needs. And if they have strong feelings for the new Android tablets as well, 2011 could be the Year of the Slate.
Contact Jeff Bertolucci via Twitter http://twitter.com/jbertolucci ) or at jbertolucci.blogspot.com .