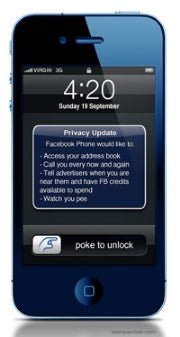 Facebook flat-out denied weekend rumors it is developing a branded smartphone, but not everyone is convinced. Specifically, the rumors are Facebook is developing either handset hardware or a software operating system that would run on a third-party smartphone.
The software rumors come via online publication TechCrunch which claims Facebook's mobile OS ambitions include more tightly integrating your Facebook friends' details into the contact list and core functions of the phone. TechCrunch says its report is based on "a source who has knowledge of the project."
Facebook quickly denied TechCrunch's claim, saying it's not building a phone. The social network's statement however leaves room for interpretation, saying that it is working on "deep integration" of its services with mobile phones.
The Real Thing Or Vaporware?
CNET reports that the social network has reached out to hardware manufacturers and carriers, seeking input on a potential Facebook-branded smartphone. Also, Business Insider quoted a source "plugged-in Silicon Valley" saying Facebook is "for sure" using Google Android as the basis for the software of the rumored hardware.
Neither TechCrunch, CNET, or BusinessInsider have any further details on how a Facebook smartphone would work, who would make the hardware for it, or what the phone would look like.
Facebook already has dedicated applications for the iPhone, BlackBerry and Android phones, and estimates over 100 million of its over 500 million users are accessing the social network through their mobile devices.
The Sense user interface, used by phone manufacturer HTC on some of its Android phones, has deeper integration of contacts and messages with Facebook, but this feature is not commonly used throughout most Android phones.
Follow Daniel Ionescu and Today @ PCWorld on Twitter