Are consumers ready to dig deep into their wallets for Samsung's Galaxy Tab as the economy struggles and more affordable tablets, namely Apple's iPad, exist? According to Amazon's U.K. site, after currency conversion, the Tab will cost $1067 unlocked in England (or £679.99).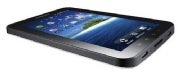 Of course Samsung has struck deals with AT&T, Sprint, T-Mobile, and Verizon here in the U.S. to offer the Galaxy Tabs at a subsidized price in exchange for you signing a service contract. What those subsidized costs will be, we don't know yet until wireless carriers weigh-in. Samsung does says it will offer a contract-free Wi-Fi only model of the Galaxy Tab in the future, but won't say when or how much.
But if pricing here in the U.S. is even close to $1067 for the Galaxy Tab (no contract) you could buy two Wi-Fi-only Apple iPads with 16GB of storage for the same price. Contracts will bring the initial sticker price down, but one of the first things I want to know is what's the total cost of ownership going to be for the Samsung Galaxy Tab once you commit to a multi-year contract with either AT&T, Sprint, T-Mobile, or Verizon?
Total Cost of Ownership for Galaxy Tab: Out of this World?
It may not be an apple to apple comparison, but the two-year total cost of ownership for an iPhone 4 with AT&T is $2395. If you paid only for the iPhone 4 it would run you either $600 (16GB) and $700 (32GB). Based on a contract beefing up cost to $1750 for the iPhone 4, I shudder to estimate how much I'd have to shell out to own a Galaxy Tab over a year or two. And keep in mind the iPhone serves the utilitarian purpose of being a phone and compared to a tablet that you can argue is a toy or a digital accessory – but not a must have.
Added to the initial cost of purchasing the Galaxy Tab, you also need to consider the cost of data plans and restrictions. Though the iPad has an exclusive data plan with AT&T — not necessarily the best US carrier available — there is no contract, so you can bail any time. And while the Tab gives you the option of choosing your wireless provider, these plans come with the same data caps and early-termination fees associated with smartphone data plans — a total bummer. I never thought I'd find pairing with AT&T a better option, but in this case, it just might be.
Final judgment will have to be reserved for the momement wireless carriers share with us how much the Galaxy Tab will cost consumers at the time of purchase and over time. I don't think it's a good sign that last week when Samsung debuted its tablet it didn't announce pricing. That suggests to me pricing might have been the kind of buzz kill it didn't want to deal with at launch.