At a Glance
Expert's Rating
Our Verdict
Adobe's consumer image- and video-editing applications offer a good value. They receive minor yet useful makeovers in their latest versions, but they still rely on a separate, bloated organizer.
Adobe's consumer image- and video-editing applications–Photoshop Elements 9 and Premiere Elements 9–get minor makeovers in their latest versions. Both gain Facebook upload capability and, of course, additional editing capabilities, but each still relies on a separate, bloated organizer, so you'll have to run two (or even three) Adobe applications at once.
Nevertheless, the dual-app bundle represents a notable value: At $150 (price as of September 21, 2010), the Photoshop Elements and Premiere Elements package knocks $50 off the cost of buying the two apps individually. The odds are good that you'll need both apps at some point–and if you do, you'll be glad you bought them as a bundled duo.
Photoshop Elements 9
Adobe Photoshop Elements 9, the new version of Adobe's image editing and organizing application, adds a few interesting features, but nothing of an oh-wow nature–unless you're opting for the Macintosh version, which adds several features found in previous Windows versions. But whichever platform you're on, Elements 9 ($100, or $140 for the Plus version; prices are as of September 21, 2010) remains one of the better consumer-level image handling applications you can choose.
Of course, Photoshop Elements 9 adds new editing and enhancement features. In its Guided Editing mode (also known as the lead-me-by-the-nose mode), you'll find a new reflection effect, pop-art effects, and "Lomo" camera effects. If you had the know-how, you could probably pull these off without the step-by-step. Likewise, the new "Perfect Portrait" feature merely steps you through the use of various editing tools, such as the spot-healing brush and the red-eye removal tool, to improve your portraits. If you're familiar with the tools, you may not need the assistance, but if you aren't, the instructions provided in the sidebar could be helpful.
Premiere Elements 9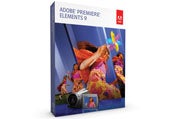 With the exception of folks who haven't had their shots, just about everyone who has a video capture device is desperate to go "viral"–to have their video to become so wildly popular that everyone knows its title by name. Adobe's Premiere Elements 9 video editor ($100, $140 for Plus version; prices as of September 21, 2010) may not help your videos get a million views in a day, but it does have a few new features that might induce Mom and Dad to watch them, anyway.
The video-focused complement to Photoshop Elements 9, the new version of Adobe's image-editing application, Premiere Elements 9 lets you easily upload finished videos to Facebook (the program first acquired YouTube-upload capability in Premiere Elements 8).You can't send your freshly edited video directly from Premiere Elements to Facebook, however; instead, you must save it, return to the Elements organizer (a separate application), find the video, and then use commands in the organizer to upload the video. It's easy to do once you're in the organizer, and the process works very well, but I'd rather use a more consistent interface, so I wouldn't have to remember to use YouTube in the editor and Facebook in the organizer.