If you're an iPad user, you may have discovered a rather strange quirk in iTunes. Although the program makes it blissfully easy to add documents to certain apps by way of its File Sharing feature, there appears to be no way to delete those documents.
For example, suppose you've got that slick new VLC Media Player app, which supports most popular video formats. To add videos to your iPad, you connect it to your PC, fire up iTunes, then do the following:
1. Click your iPad under the Devices section.
2. Click the Apps tab, then scroll down to File Sharing.
3. Click VLC, then the Add button.
4. Choose the videos you want to add.
Very easy, right? Okay, but what happens if you load up a video that VLC won't play? In fact, it doesn't even appear in the app–meaning you can't delete it from there. Now what?
iTunes inexplicably lacks a Delete button in this File Sharing area, and right-clicking a document does no good. So how the heck do you delete a file you've copied to your iPad?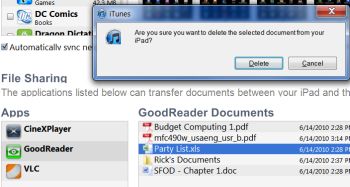 The answer's so obvious, you'll smack your forehead when you hear it. In the Documents list, click the name of the file you want to remove, and then press the Delete key on your keyboard. iTunes will ask for confirmation, and then, presto, it's gone.
Note to Apple: Hellooooo? Can we get a Delete button, please?