In response to a recent Hassle-Free PC that described quickly determining which version of Windows you have, a reader asked the following question about his system:
"Microsoft Windows XP, Media Center Edition, Version 2002, Service Pack 3: Is this the 32-bit or 64-bit variety?"
Fair enough question: my Hassle-Free PC covered only Windows Vista and Windows 7, not XP. Know why? Because Microsoft didn't make 64-bit versions of XP–not for consumers, anyway. Rather, Windows XP 64-Bit Edition was created specifically for Intel's Itanium family of processors, and not many of those found their way into home PCs.
So if you're running XP on your system, I'd say it's 99.9 percent certain that it's the 32-bit variety.
Ah, but what does it matter? What are the differences between the 32- and 64-bit versions of Windows (often known as "x86" and "x64," respectively)? If you're buying a new PC, which one should you choose?
Short answer: for most home users, 32-bit Windows is fine and dandy. If you're more of a power user, opt for 64-bit (which is increasingly common on new PCs anyway, so you may not even have a choice). The key consideration is RAM: 32-bit Windows can address only 3.5GB, while 64-bit Windows can address 4GB or more. Because so many new PCs come with at least 4GB, that's why you're seeing Windows x64 as the default OS.
I know, I know: this stuff can be confusing. If you want to learn more, I recommend reading Microsoft's informative article, "Taking the mystery out of 64-bit Windows."
Make Your Screen Easier to Read
I admit it: My eyes are getting old. More and more these days I find myself suffering from eyestrain after spending hours in front of the computer. It finally dawned on me: I'm using a big monitor (a 22-inch LCD), but Windows is still showing me relatively tiny fonts, icons, etc.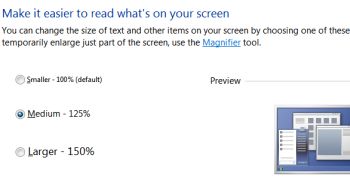 As regular Hassle-Free PC readers know, it's a simple matter to increase the font size in, say, your browser: You just hold down the Ctrl key and tap + (or spin your mouse wheel). But what about making everything bigger throughout Windows? The icons, the toolbars, the text in pull-down menus–everything? It turns out Windows 7 is easily enlarged:
Open the Control Panel, then select Appearance and Personalization.
Under the Display section, select Make text and other items larger or smaller.
The default is Smaller. Choose one of the other two settings–Medium or Larger–and then click Apply. (Be sure to save any other work first, as you'll have to log out of Windows and back in again for the changes to take effect.)
Presto! Now Windows is a lot easier on the eyes (and I mean that in the literal sense). It may take a little while to get used to the bigger fonts and whatnot (I had to readjust some of the viewing panes in Microsoft Outlook), but ultimately this is a great solution for anyone suffering from computer-generated eyestrain.
Change Your Windows 7 User-Account Picture
When you click the Start menu–or visit the Windows log-on screen–you're presented with a rather arbitrary thumbnail image. Usually it's a flower, soccer ball, rubber ducky, or one of the other handful of Windows' stock images.
Although you don't get many choices when you first set up your PC (and sometimes you don't even get a choice), you can easily change the image that's assigned to your user account. Here's how in to do it in Windows 7 (the procedure may vary slightly in earlier versions):
Open the Control Panel and then choose User Accounts (or click Start, type User Accounts, and hit Enter).
Select Change your picture.
If you don't want any of the available thumbnails, selct Browse for more pictures.
Navigate to the desired folder and choose the image you want. Any BMP, GIF, JPEG, or PNG file is fair game.
That's all there is to it! Now you can customize Windows to be just a little more the way you want it.
If you've got a hassle that needs solving, send it my way. I can't promise a response, but I'll definitely read every e-mail I get–and do my best to address at least some of them in the PCWorld Hassle-Free PC blog . My 411: hasslefree@pcworld.com . You can also sign up to have the Hassle-Free PC newsletter e-mailed to you each week .