At a Glance
Expert's Rating
Pros
Excellent general performance
Versatile Chassis
Our Verdict
A deafening chassis and stiff competition makes things tricky for AVADirect's versatile Performance PC.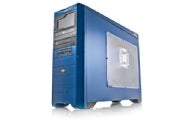 AVADirect's Custom Gaming PC might not have the most inspiring moniker, but this blue beast pays homage to the old school of Performance PCs: powerful, imposing, and woefully loud. It also isn't cheap, sitting at just over $6300 (as configured, as of 9/20/2010). Still, it's right in line with the upper echelons of the Perfomance PC category, and you're getting quite a bit of bang per buck. Unfortunately, when not bested in raw speed by similarly priced machines, it loses out to Performance desktops offering a stronger price to performance ratio.
AVADirect's latest Performance desktop earned a WorldBench 6 score of 179, making it one the top performers in the category. Under the hood are a Core i7-980X processor overclocked to 4.4GHz, 6GB of DDR3 RAM, and just over 2 terabytes of storage space — one storage drive, and a 256 gigabyte solid state drive. But competition is fierce: Origin's $7000 Genesis will set you back an additional $600, but offers twice as much RAM, and a category leading 194 in WorldBench. And Digital Storm's $3400 Black Ops Assassin earned a 172 — marginally slower, at half the price.
Gaming performance is stellar — par for the course at the upper end of the Performance charts. The three Nvidia GTX 480 graphics cards arranged in SLI crushed our tests. On our Unreal Tournament 3 benchmark, it earned an average of 175.2 frames per second. In Dirt 2, we saw an average of 178.7 frames per second (2560-by-1600 resolution, highest settings). The similarly equipped Genesis outpaces these results, with average frame rates of 208 and 190 in Unreal Tournament and Dirt 2, respectively. The Black Ops Assassin's pair of Nvidia GTX 480s offered up 173.4 frames per second in Unreal Tournament 3 — again, marginally slower, but that excellent price-to-performance ratio makes up for the gap.
Clamber this far up the Performance PC charts, and you'll have to look beyond raw performance numbers to weigh the merits of these heavy hitters. AVADirect's Custom Gaming PC is built into a Silverstone Raven RVO2 chassis. The case flips the motherboard 90 degrees, leaving the connectors up at the top — great for accessibility, and ideal for ensuring strong airflow. Protruding wires can be snaked along the top of the machine, and a removable grill can mask them entirely, if you don't need to access them very often.
There are a decent variety of ports available on the top of the machine: a pair of USB 3 connectors, four USB connectors, a FireWire port, serial PS/2 ports for a keyboard and mouse, dual gigabit Ethernet ports, SPDIF, 7.1 and optical audio output ports. The graphics cards offer a total of six DVI ports, and three mini-HDMI ports. You'll also find a set of manual fan controls — more on that in a moment.
The front of the machine offers two more USB ports and the requisite headphone and microphone jacks, in addition to a Blu-Ray burner, a DVD burner, and a multiformat card reader. But the most noticeable feature is the nifty NZXT fan controller's LCD display. AVADirect has opted to keep their machine's overclocked CPU stable with a vast array of fans. With the display, and the manual controls on top, internal temperatures can be monitored at a glance, and tinkerers are afforded granular adjustments to their machine's fan speeds.
The chief benefit of relying on fans is ease of access. There are additional DIMMs to add more RAM, but as it stands the machine is well-equipped. All of the available PCI slots on the motherboard are taken up by the massive graphics cards. The free hard drive bays are also blocked by the GPUs — you can add more, but you'll need to temporarily move a card or two out of the way to get in. The wiring job inside is also very neat — cables are tied down and snaked away into a separate section of the chassis. It's clear that AVADirect put a lot of effort into ensuring that this machine's components get all the airflow they'll need. The interior is also bathed in a blue light, matching the chassis paint job.
Working inside the case is a lot easier than futzing with the liquid cooling array we see on systems like Origin's Genesis, but the rather significant drawback is that this machine roars when it's powered up, and remains quite the auditory distraction.
And therein lies the rub. AVADirect has helpfully included a number of overclocking presets in the machine's BIOS, and the included documentation will tell you how to scale the machines performance to meet your needs. If you're bothered by the noise you adjust the din a bit by juggling the fan controls, but unless you ultimately decide to scale back the CPU's clock speed, you could run the risk of overheating your processor.
This puts AVADirect's machine at a serious disadvantage against the competition. Origin's Genesis rules the roost where performance is concerned, and liquid cooled components keep the noise level low. Digital Storm's machine delivers slightly slower performance overall, but offers a sealed, sound-proofed chassis — and again, costs half as much. In both cases, there's no need to compromise: you're getting unmitigated power, and can maintain a reasonably quiet workspace.
Nitpicks aside, AVADirect's Custom Gaming PC is an impressive piece of hardware. The price is steep, but right for the hardware, and performance. There isn't much room to add more components, but the chassis is stuffed to the gills as it stands, and offers a fair amount of room should you decide you'd want to replace a GPU or two. It's a powerful machine, but in this case, the competition offers as much (or more), without a rather significant drawback. Even if noise levels aren't a concern, you'll be able to find superior performance that's likely still in your price bracket — or comparable power for much less.