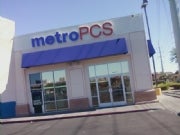 It was pure coincidence that I happened to be in Las Vegas on the very day MetroPCS launched the country's first Long Term Evolution (LTE) services, so I took the opportunity to chase down and test-drive the Samsung Craft phone, MetroPCS's sole LTE device.
I steered the rental car east off the strip toward Maryland Parkway, and found the company-branded MetroPCS outlet I was looking for. Inside, I was greeted by a security guard, publicity photos for Star Trek (I will explain) and some white, orange and purple balloons that apparently made up all the hoopla for the great inaugural LTE launch. No iPhone fanboy lines here.
A cheerful and helpful salesperson (who requested I not use her name) pointed me right to a Samsung Craft, which was attached to the display with one of those pull-out security cords. I requested a test drive. "We don't have any active units for testing," she said, but in a moment of great credit to her professionalism she offered to let me try out her personal Craft phone, which she said she'd been testing for a week.
The Craft phone felt solid and well built, not plasticky. The slide-out keyboard mechanism was solid and easy to type on, though I wonder why Samsung made the period a function-key entry rather than a dedicated key. The touch-screen interface seemed not as polished, as I found the the flick-finger scrolling way too enthusiastic (going too far back and forth past the icon I wanted), even with some quick coaching from my salesperson friend ("don't flick it too hard").
A Feature Phone Interface
Though I am not a complete stranger to touch screens, the BREW-based Samsung interface was more than a bit clunky, especially when trying to type in web addresses — it had that common feature-phone problem of trying to make a web interface work on software that wasn't ever designed to be so interactive.
For individual fields the touchscreen seemed to require an exact, hard touch, not an easy task for my full-figure fingertips. My salesperson friend seemed to do fine with her fingernail point clicking, though she had clearly learned what some of the non-intuitive menu icons meant (home, web, etc.) while I had to ask a couple times how to get back to the main screen or how to just get to a web browser.
Though the Craft's screen may be 3.3 inches, the display doesn't really fit to the edges, making it tough for powerful-finger types like myself to quickly manipulate the Craft's screen. My salesperson friend did a much better job with her manicured nails, the stylus you hardly ever lose.
Speed Bumps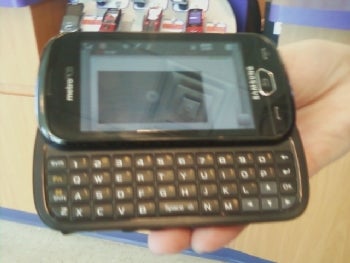 My few minutes of unscientific testing left me unimpressed with the speed of the device. Though my salesperson said the phone was "screaming fast" compared to her previous device, it seemed to respond to web requests on a par with most other smartphones, and a little slower than 3G-based iPhones and Android units I've used recently.
We tried to get a download speed number, but the Speedtest.net test failed — and the error message was too small to read to figure out what went wrong.
Sure, the Craft is a revolutionary device (being the first in the U.S. to use LTE), but I doubt it's a product people will rush out and wait in line to buy, even with the added incentive of getting a copy of the Star Trek movie for free (it is included on the memory card that comes with the phone). Instead, The Craft looks like another blue-collar workhorse for the MetroPCS core network, but one that might be perfect for users who need to access the web a lot, or for people using the Craft as their only web device.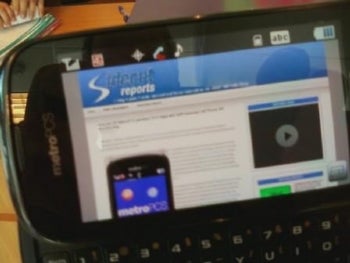 I didn't get to look at the social-media interface, but my guess is that Facebook and Twitter are a lot easier to show on a phone than web pages. Though it's not going to pass muster for anyone who has seen or used a later-model smartphone, for the many folks who are still on flip phones or first-generation feature phones with bigger screens, the Craft could be a more than adequate step up the cellular chain.
KNOWN SPECS:
3.3-inch AMOLED screen
Wi-Fi and 1G radios (1G for voice)
2 GB MicroSD card (loaded with Star Trek)
3.2 megapixel camera, with camcorder and flash
Slide out QWERTY keyboard, touch screen interface, Samsung TouchWiz
Paul Kapustka is editor and founder of Sidecut Reports, an independent research firm that specializes in wireless technologies.