If you don't mind jumping through a few hoops, Microsoft is prepared to reward you for using Bing.
A new program called Bing Rewards has launched in preview. It allows Bing users to get rewards such as movie tickets, gift cards, electronics and — if you're really into it — Bing swag, just for using Microsoft's search engine.
Here are the catches: You must use a Windows PC and Internet Explorer 7 or greater. Then, you must install the Bing Bar, which adds an extra layer of search and other functions, like Hotmail and video, to the Web browser. In other words, this is a rewards program for using a whole bunch of Microsoft services and software, not just Bing.
Still on board? Just for signing up, you get 250 credits. And according to Search Engine Land, you can currently earn one credit for every five Bing searches, up to eight credits per day. That rate is in effect until October 2.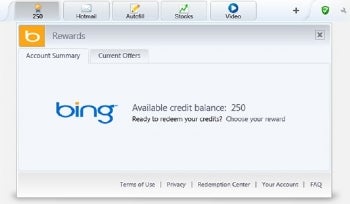 To get a sense of what credits are worth, consider that a $5 Amazon gift card costs 541 credits, and takes 36 days of maximum use to earn. The reward store's priciest offering, a 7-inch digital photo frame, costs 4715 credits, and would take 559 days to earn at the current rate.
Obviously, we're not talking big-time rewards here. Chrome and Firefox users will have to be pretty frugal to switch browsers and install a clutter-inducing browser bar just for a shot at some free Starbucks coffee or "Date Night" on DVD. But for the nearly half of the Web browser market, folks who already use Internet Explorer 7 or above, maybe the Bing Bar is worth the chance for some free stuff. Users might even like the browser bar and keep it around. I suppose that's the point.