Google is at its wit's end dealing with illegal sellers of prescription drugs that market medicines on its ad network, so it has decided to take some of these allegedly rogue advertisers to court.
In addition to pursuing the alleged violators, Google hopes that its action also serves as a deterrent against other illegal medicine peddlers, Google said on Tuesday.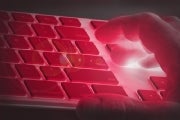 Google has struggled with the problem for years, Michael Zwibelman, a Google litigation counsel, said in a blog post.
"It's been an ongoing, escalating cat-and-mouse game — as we and others build new safeguards and guidelines, rogue online pharmacies always try new tactics to get around those protections and illegally sell drugs on the web," he wrote.
Rogue prescription drug sellers have increased in number and become more sophisticated in their dealings, and "a small percentage" of them have been able to dodge Google's efforts to block them from running ads on its network, according to Zwibelman. This occurs despite Google's tightening of its advertiser verification process and other screening and protection measures.
Google filed a similar lawsuit against peddlers of shady get-rich-quick schemes that use the company's name and brand to attract customers.
It's critical for Google to ensure that its advertisers don't lead its users into trouble, whether it is to a malware-infested site or an online scam. Whenever this happens, victims understandably become distrustful and less likely to click on a Google ad.
However, it is hard for Google to weed out all crooks from its system, because it sells most of its pay-per-click search ads to its marketers using its self-serve AdWords online system, so its relationship with most of its advertisers is hardly personal. Google has more than 1 million advertisers using AdWords.
Google filed its lawsuit in the U.S. District Court for the Northern District of California, San Jose Division, alleging that the defendants are "rogue online pharmaceutical sellers" who misused AdWords and violated its terms and conditions of use.
Only one defendant is identified with a full name, while 49 others are called "John Doe" because their true names and locations are unknown. Google will try to identify more defendants later, according to the complaint.
Google seeks that the court bar these advertisers from attempting to use AdWords and that damages will be awarded to the company.
It's not unprecedented for Web publishers to sue rogue advertisers, but it's also not a common occurrence, because publishers have many ways of dealing with the problem without having to engage in litigation, according to a legal expert.
Thus, Google's motives for filing this lawsuit likely go beyond a desire to chase away from AdWords the specific defendants and deter others, said Eric Goldman, associate professor at the Santa Clara University School of Law and director of its High Tech Law Institute.
For one, Google may be trying to promote goodwill with government regulators, which often criticize search engines over ads that the regulators consider as promoting illegal products and activities, such as the unauthorized sale of prescription drugs, he said.
"Google's move here may be a part of a broader campaign to signal to government [agencies] that Google is serious about helping them," Goldman said.
"Google may not even care if it wins, frankly. It may be enough that bringing this lawsuit serves as evidence that it can show to the government that Google is on its side and trying to help," he said.
The lawsuit could also help Google reduce its liability exposure if one of these vendors gets criminally prosecuted and it comes to light that they marketed their products using AdWords, Goldman said.
While Google stands to benefit in various ways from this lawsuit, there is also a small risk that the case could backfire. By alleging breach of contract, Google opens the door for the defendants to challenge the validity of the AdWords terms and conditions, Goldman said.
An adverse ruling by the judge against Google on this contract issue could create big problems by potentially limiting Google's ability to control certain advertiser behavior on AdWords, he said.
However, this scenario is unlikely to materialize for two reasons: the defendants in this case probably won't fight the allegations and the AdWords contract has fared very well in court in the past, Goldman said.