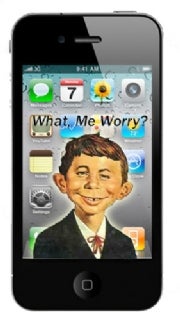 Mad Magazine built a loyal following with a character who wasn't the brightest bulb on the Christmas tree named Alfred E. Neuman whose motto was "What? Me worry?" AT&T is adopting a similar attitude toward the prospect of losing its chokehold on the iPhone. It's doubtful, though, that that attitude is going to have the same results for the wireless carrier.
At an investors' conference held yesterday in New York City, AT&T CEO Randall Stephenson argued at the forum that loss of exclusivity over the iPhone would not spark an exodus from the carrier with the highest number of dropped calls, lowest customer satisfaction ratings and smallest 3G coverage in the United States. Some two-thirds of iPhone owners were AT&T customers before they were iPhone owners so there's some built-in loyalty to the company. He reasoned. Moreover, the recent release of the iPhone 4 locked in lots of iPhone users into new two-year deals–deals they can't get out of without paying substantial penalties–which will also deter iPhone owners from deserting the carrier when its stranglehold on the mobile ends, he added.
There seems to be little doubt that AT&T's customer base will take a hit when other carriers are allowed to offer iPhones to their customers. How much of a hit, though, is a subject of debate–and dueling surveys.
Some 23 percent of iPhone owners, or 1.4 million users, would ditch AT&T if Verizon began supporting Apple's mobile, according to a survey recently released by Credit Suisse. Such an event could occur as early as January 2011, although Credit Suisse is betting on February of next year. Other carriers don't have the pull on iPhone users that Verizon does, the study noted. Only two percent would jump to T-Mobile and three percent to Sprint if those carriers began supporting the iPhone, the surveyors found.
A more recent study by Deloitte Touche, however, indicates defections would be much higher if Verizon cut an iPhone deal with Apple. Almost half of iPhone users said they would be "very interested" in bolting AT&T for Verizon should the opportunity present itself. "If another carrier were to pick up the iPhone, you would probably see a number of defections," Ed Moran, director of insights and product innovation at Deloitte, told Reuters Wednesday.