Netflix was so psyched for the launch of streaming movies and TV shows in Canada that it closed down a Toronto street and held a press event. But despite the company's internal enthusiasm, Netflix clearly wasn't confident the public would mirror its sentiment, so it hired actors to fatten the gathered crowd.
According to a Netflix-penned script obtained by the Canadian press, the actors were instructed to "play types, for example, mothers, film buffs, tech geeks, couch potatoes, etc."
"Extras are to behave as members of the public, out and about enjoying their day-to-day life, who happen upon a street event for Netflix and stop by to check it out. Extras are to look really excited, particularly if asked by media to do any interviews about the prospect of Netflix in Canada," the instructions read.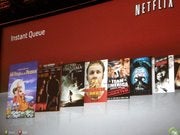 Apparently the actors weren't any good in these interviews. Suspicious members of the Canadian press found their Razzy-worthy performances so wooden that identities were questioned, and the ruse was exposed via Twitter and Facebook posts.
Now that Netflix's hitherto-untarnished reputation was sweating in the guillotine, the company admitted that the Toronto police hadn't authorized a press event, so Netflix said it was filming a company documentary, hence the actors. Then it claimed that some actors had gone rogue and gave unauthorized interviews. Steve Swasey, vice president of corporate communications for Netflix, claimed he was unaware of the script and that "some people got carried away and it's embarrassing to Netflix."
This kind of behavior has been done before by much more prominent individuals, so the egg ought to drip off Netflix's face in no time at all. It still doesn't make sense. Why would a company that's doing so well — becoming ubiquitous with online streaming video and crushing old-school retail video stores — pull such a childish stunt? Sure, bringing Netflix's services to Canada isn't that exciting, but this is, as Swasey said, embarrassing. Face it, Netflix: streaming video is awesome, but it's nothing to close streets or hire actors for — it's just streaming video, our new pastime.