At a Glance
Expert's Rating
Pros
Strong general performance
Ample storage
Our Verdict
Acer's 23-inch AZ5700-U2112 offers speed and an attractive touch-friendly display, without breaking the bank.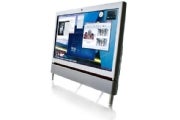 The Acer AZ5700-U2112 might have an unwieldy moniker, but this big-screen all-in-one PC serves up a heaping bowl of speed and media functionality for quite the palatable price: just under $1000 (as of September 23, 2010).
Inside this 23-inch all-in-one PC are a 3.2GHz Core i5-650 processor, 4GB of RAM, and a 1TB hard drive (a fairly large capacity, for the category). It earned a 119 on our WorldBench 6 test suite, landing near the top of the all-in-one food chain.
As is generally the case with all-in-ones, the primary draw of the AZ5700-U2112 is its 23-inch multitouch-capable screen. It supports Windows 7's native touch gestures, as well as Acer's own Touch Portal software (more on that in a bit). The display offers a native resolution of 1920 by 1080 pixels. Video playback is smooth and crisp, in spite of the system's reliance on integrated graphics. Image quality is also impressive, with excellent color reproduction.
The system has a total of six USB ports: two on the left side, and four on the rear. The built-in speakers are capable, and rather loud, without sacrificing much in the way of detail; but you'll still be able to attach a proper stereo system, if you wish, thanks to the 5.1-channel audio-output ports. You'll also find an HDMI port and an eSATA port, the latter of which should appease storage buffs who might otherwise lament the lack of FireWire. As for the optical drive, a DVD burner is in the machine; a Blu-ray player would've been nice, but you can't expect too many luxuries if you're looking to save a few bucks. A built-in TV tuner with a bundled remote completes the media-friendly package.
The built-in Webcam includes software that lets you add silly animations and the like to spice up your video chats. The quality isn't great–it's appropriate for YouTube, but not much else. The Webcam also comes with a video surveillance mode, a curious addition that tracks movement in front of the PC and surreptitiously snaps an image. It'll likely be more useful for crafting pranks than as a proper security tool, but the option is nice.
Acer's aforementioned Touch Portal software rounds out the AZ5700-U2112's offerings. Like the TouchSmart software on the HP TouchSmart 600 Quad, this collection of widgets delivers quick access to popular Web destinations, your music, and your videos on the PC. A touch-optimized browser offers large, bright buttons to make browsing with your fingers a bit easier. Touch Portal also automates software and hardware driver updates, which should help keep the machine in working order without too much hassle. All told, the software feels snappy and responsive, and makes finger-based operation a breeze.
A wireless keyboard and mouse are included. We generally like to see wireless peripherals on all-in-one PCs, and the set that Acer included manages to hit most of the right notes. Dedicated shortcut keys on the keyboard allow quick access and control for music and movies. A volume wheel is present, too, but it scrapes noisily against the keyboard's frame and generally feels a bit out of place; a pair of volume buttons would've worked just fine. There's not much to say about the included mouse–it's wireless, and it's comfortable enough, but it lacks any additional buttons or functionality.
You'll find a lot to like here, but the Acer AZ5700-U2112's strongest asset is its price tag. It's a great PC for work and play, and you won't have to spend too much. You get quite a bit of value in a fairly attractive frame. The machine is versatile, too, offering enough power to get work done quickly, while shining as a media hub.