At a Glance
Expert's Rating
Pros
Tool-free internal access
Strong general performance for the category
Cons
Display appears a bit dim
Our Verdict
Lenovo's business-ready all-in-one brings the ThinkPad feel to the world of multitouch desktops–and it doesn't disappoint.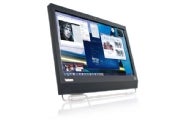 Seasoned road warriors are likely familiar with Lenovo's ThinkPad laptops, which offer business-oriented software and functionality tailored to keeping each laptop running smoothly. The 23-inch Lenovo ThinkCentre M90z ($1400, as configured, as of September 23, 2010) promises to offer that familiar ThinkPad touch in a large, speedy package.
Much like the company's business laptops, the ThinkCentre M90z is an unassuming black box. But it's attractive in its simplicity, with the spacious display sitting on metal brackets that lend it a chic, industrial vibe. It's powered by a 3.2GHz Core i5-650 processor, and offers 4GB of DDR3 RAM and a 500GB hard drive. On PCWorld's WorldBench 6 test suite, the M90z netted a score of 117; you won't find many big-screen all-in-ones with more muscle, unless you're willing to shell out quite a bit more cash for the Apple Core i7 iMac.
The M90z's 23-inch screen supports Windows 7's multitouch gestures, if you'd like to add a bit of poking and prodding to your workflow. Lenovo also tossed in a bit of its own finger-friendly magic, in the form of SimpleTap. A two-fingered double tap on the display fires up the SimpleTap overlay, which presents a grid of large tiles. These tiles serve as shortcuts to frequently used applications and hardware controls. You can add shortcuts to any files, programs, or Websites you wish, speeding up your workflow with a simple, intuitive gesture.
Less enticing are the touch-sensitive shortcut buttons arrayed on the machine's face. These can enable or disable the microphone, adjust the display's brightness, or toggle between multiple displays. While ostensibly handy, they're a bit too sensitive: I managed to toggle them accidentally a number of times while tapping on the display.
Saddled with integrated graphics, the M90z is inadequate for gaming, an expected handicap for a business machine. The display does have a native 1080p resolution, and high-def video playback is smooth and stutter-free. That said, it isn't the most vibrant of displays. Colors appear muted–even at the brightest display settings–which can leave images looking a little dull. You'll also want to get a set of headphones or proper speakers, as the speakers built into this machine are rather lackluster.
The system has a total of six USB ports, which leaves room for adding external devices. Noticeably absent are advanced connectivity options such as FireWire and eSATA, which could have benefited storage buffs immensely. The multiformat card reader makes getting photos onto the machine a snap, and the PC also sports a DVD burner. And unlike the majority of all-in-one computers, the M90z makes its innards readily accessible. Simply tug at a pair of latches on the rear of the unit, and the entire back panel lifts right off, giving you tool-free access to the components.
Built-in Wi-Fi connectivity helps to cut down on cable clutter, but the M90z also has a DisplayPort connector in case you want to add another monitor to your workstation. A VGA input port lets you use the display as a large monitor for your laptop. The functionality is appreciated, although consumer all-in-one desktops such as the HP TouchSmart 600 Quad have composite and HDMI inputs, which provide a bit more utility.
The ThinkCentre M90z is bundled with Lenovo's standard software suite, the ThinkVantage Toolbox. Much like the software on Lenovo's business laptops, the ThinkVantage tools here will help you keep your machine in working order–always handy, since home offices lack a dedicated IT staff. The Toolbox automates data backups and monitors software and hardware drivers, keeping them up-to-date to ensure an uninterrupted workflow. But it goes further still, regularly scanning and analyzing the M90z's hardware to confirm that all of the innards are working as expected. It catalogs hardware and software changes, too, as well as test results; if something does go wrong, you'll have a concise timeline of critical events, making troubleshooting or rolling your software back to an earlier state much less of a hassle.
The Lenovo ThinkCentre M90z packs a substantial amount of muscle into a svelte package. For home theater it's a bit lackluster, as subpar speakers and dull picture quality detract from the excellent video playback. But the M90z delivers where it counts, offering strong performance and a robust software platform tucked into a package that will simplify your workspace.